Being a dog owner, lover, puppy cuddles extraordinaire and having a serious love affair for all animals, I am a huge advocate for couples, families and weddings parties to bring their fur friends to sessions with me. I have shot tons of session with big dogs, little dogs, dogs in bow ties, dogs in sweaters, hyper dogs and super lazy dogs, and you know what they have all turned out great! Today I am chatting about 5 tips for including your dog in your sessions.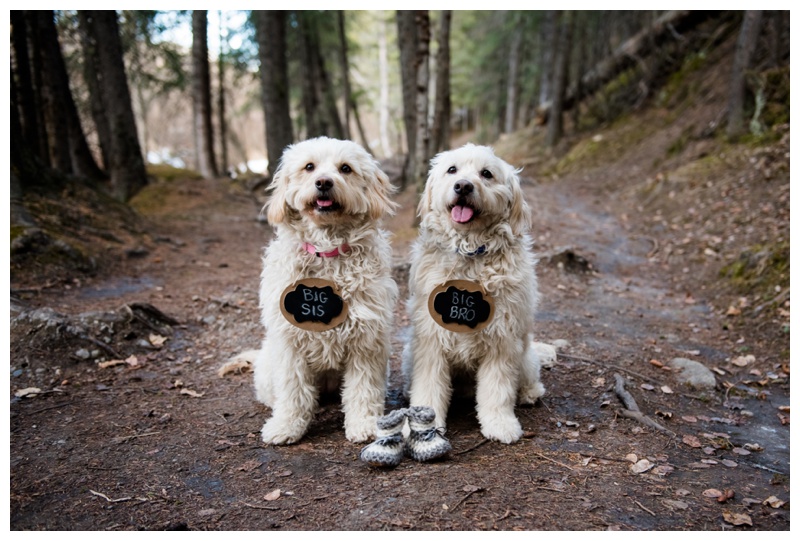 First things first, here is a list of things not to leave home without of for your pooch session:
a leash
poop bags
treats
a toy or two (squeaky/ball/etc)
realistic expectations 
Tucker them out! – Plan ahead and schedule some time prior to your session where you can take your dog to a dog park or on a long walk to burn off some of that excited energy before their moment in the spotlight. If they tend to be a lazier or older dog then their energy level might not be the same as a younger hyper pup so make sure you judge their energy level prior to and plan accordingly.
Their Moment to Shine – Typically your sweet fur baby will only be in about half of your session. They loose interest in the treats, stop focusing, and just want to play. Because of this having a friend come hang out with your pup, or planning to do the dog photos closer to home so you can swing by and drop them off to sleep half way through is a great idea. I have also had it where client just tie their dogs to a nearby tree for the dog free photos which also works as long as they don't have too much separation anxiety and bark the whole time. 
Plan their attire too! You have probably thought long and hard about what you will be wearing in the photos it is also a good idea to think about the collar and leash your dog will have on. Having loud or vibrate coors and prints might not be best and will attract your eye. Keep the leash and collar simple but feel free to spice it up with bandannas, bow ties or even flower crowns.
Plan for a Dog Friendly Location –  Having a dog in your session is no problem at all as long as we choose dog friendly locations. Some parks in and around Calgary don't allow dogs so we do have to plan accordingly. Alas make sure you bring lots of treats or favourite toys to get their attention during the session. 
Have Patience! Just like photographing small kiddos, and babies, dog can be uncooperative sometimes too. Keep in mind that your cute pooch probably won't be looking at the camera in every photo, and you may have some face lick photos (which are a-ok in my books). I truly believe that our animals sense our attitudes and when we are uncomfortable, scared, or nervous they feel that and it will play a big part in how our dogs are going to react to new situations like for example getting their picture taken by a stranger. So stay calm, try not to get frustrated, and think positively. After all your pooch is a member of the family and those sloppy kisses are great in photos!
If your wondering if you can bring your pooch to a session with me the answer will always be YES! Just come prepared and everyone will have a blast!
If your looking for an Wedding Photographer and are in the Calgary, Cochrane, Canmore or Banff area get in touch with me at info@paisleyphotos.ca
CONNECT WITH ME ON SOCIAL MEDIA
Instagram www.instagram.com/paisleyphotography
Facebook www.facebook.com/PaisleyPhotos
Twitter www.twitter.com/paisley_photo
Pinterest www.pinterest.com/paisleyphotos