Azuridge Estate Hotel Wedding | Shane & Beth | Calgary Wedding Photographer
Azuridge Estate Hotel is one venue that has been on my bucket list of wedding venues to shoot at. So when I met Shane & Beth and they were planning their wedding there I got SO excited! Originally the venue is what got me excited but after meeting with Shane & Beth I knew I wanted to capture their wedding day as these two are one of the kindest and fun loving couples! The love that these two have for each other shows through and all of their actions and the small glances were so sweet. They really were a dream couple to work with.
Their Azuridge Estate Hotel wedding day started with the girls getting pampered and the boys axe throwing. How fun is that? Then these two opted for a first look before the ceremony which their cute pooch Guinness also got to be a part of. Such a sweet moment. Also the two had one of the best group of friends in their wedding party, Seriously. Their friends and family were so welcoming and made all the photos so much fun.
Beth's grandfather also surprised her by bringing his antique blue Fargo truck for photos. The best part was it ran and drove too! I kinda have a soft spot for antique trucks so this was an awesome surprise. Their stunning outdoor ceremony overlook the ponds of Azuridge and then the view stretched all the way into the foothills of Kananaskis. Your seriously could not have asked for a more stunning spot.
They ended their stunning day dancing, partying with their families and roasting marshmallows over the campfire. They truly had the perfect day, so full of love and laughter. It was such an honour to be the one to document their.
Congrats Shane & Beth! I wish you a lifetime of love and happiness in your new marriage!
Now a little from the couple:
1.What is your engagement story?
In May 2016 we were in the Mayan Rivera for a family vacation. We had had an amazing first few days of our trip which included; a surprise limo ride from the airport to our resort (complete with a Margaritaville sing-a-long) , a foam pool party, snorkeling, and maybe one too many tequila shots.
On the Sunday morning of our vacation Shane woke me up very, very early and asked if I wanted to go for a walk down to the beach to watch the sunrise. My initial response was "no way, its too early", but after laying there for a minute I decided to crawl out of bed and join him, and I am sure happy I did!
As we walked down to the beach Shane lead me to a beautiful gazebo that overlooked the ocean. It was such a perfect morning, with no one else around it felt like it was just the two of us in our own little paradise. As we stood there staring at the sunrise Shane got down on one knee… now at first I thought he was messing with me, he had faked proposed the day before on the beach by getting down on one knee and reaching into his bag asking "Beth will you… put sunscreen on my back?" and pulling out the sunscreen bottle to hand to me, but this time he pulled out a box with the most beautiful ring I had ever seen inside and he asked me to spend the rest of our lives together. I happily responded "YES!"
2. What advice would you give to future brides & grooms for their wedding day?
The day honestly goes by so, so fast. I know everyone says that, but its actually crazy how fast it flies by. There are things that we had planned for that we didn't end up having time to do and decor we bought that wasn't used. So our advice would be, don't sweat the small stuff. Make sure you stick to how you and your partner want the day to look. It doesn't matter how much time and effort you put into planning, the day will fly by, and all that will matter is that you two had fun.
3. What was your biggest surprise on your wedding day?
Shane surprised me with so many things on our wedding day, he is so romantic, I am such a lucky lady!
For starters, when my bridesmaids and myself woke up the day of the wedding, we were lead outside to the balcony where Shane had arranged for us to have breakfast overlooking the beautiful grounds of Azuridge, there were flowers on the table, Sangria, and my favorite- Eggs Benedict!
Then later while we were getting ready, a gift box arrived in the room. In it was the beautiful pearl jewelry set that I wore on our wedding day, lots of funny goodies like socks that said "in case you get cold feet", some sentimental items like a bride and groom statue that his parents had received on their wedding day, and a letter that Shane had written for me that made me happy cry so much that I was glad I hadn't gotten my makeup done yet haha
4. What one moment will last with you both forever?
I think I can safely say it was our first look. Even though it didn't quite go to plan (Shane turned around early because he was so excited to see me :P) it was such a great moment where after all the planning and stress, we finally got to see each other all dressed up, and hug and kiss, and know that in a few short hours we would be husband and wife.
However, a close second would be everyone doing the Cadillac Ranch dance at the Reception. The DJ said it was the most coordinated line dance he had ever seen, and if you were there you would know what a lie that was… Every time we think about it we burst out laughing. Such a fun memory with all our loved ones.
5. What was your wedding inspiration? 
We always knew we wanted to have a small "weekend away" wedding. We were thinking we would have to go to the Okanagan for what we had in mind, but then we found Azuridge and it took our breath away. It was the perfect combination of outdoors and elegance and it definitely checked off everything we were looking for! I would say our overall theme for our wedding was for it to be Romantic and Fun!  For our reception we went with a combination of lace and sequin table cloths, big full flowers, a fun candy/cupcake table, s'mores bar and of course a photo booth!  Overall we are so happy with how it all came together, I really think it was truly "us" to a T.
6. Describe some of your favorite wedding details and how you came up with them.
Oh that's a hard one, we really loved everything about our day! Some of my favorite details would have to be the amazing cake and cupcakes that my sister and best friend made for the wedding, they really knocked it out of the park, everyone was commenting on them. The photo booth was also a huge hit, everyone used it and it was so much fun seeing all the pictures a few days later and of course having our puppy Guinness being apart of our day was so special for us!
7. Any advice for those planning their wedding now?
Make sure you hire the right vendors. Shane and I are both not huge fans of having our photos taken but Chantal and Jason (Paisley Photography) and Bryan (Bryan MacDonald Films) made us feel so comfortable all day! Also, definitely rent a group photo booth if you can squeeze it into your budget (we used Fotomoji and they were amazing)  it was so much fun, and the pictures will remind us of that night forever!
Ceremony & Reception Venue: Azuridge Estate Hotel 

Invitations: Mixbook

Florist: Pretty Petals Floral Designs

Dress: Durand Bridal
Bridesmaid's Dress: David's Bridal 
Flower Girl's Dress: JJsHouse
Suit Rental: Moore's
Officiant: Ceremonies by Design (Judy Walker) 

MC: Kira Sonnenberg
Caterer: Azuridge Estate Hotel
Cake/Cupcakes: Megan Rich
Hair and Makeup: Blush& Coco
DJ: Wild Bills DJ Services
Linen Rental: Special Events Rentals 
Photographer: Paisley Photography
Videographer: Bryan MacDonald Films
Photobooth: Fotomoji Booth Co.
How cute are these invitations with the three of them on it?!?
Beth wrote the cutest little nots on the back of their bridesmaid dress tags.
Beth had the best group of bridesmaids, and how adorable are their robes?
While the girls were getting pampered the boys planed some axe throwing.

It was starting to sprinkle a bit so we planned their first look to be under the balconies. Have I mentioned how much I LOVE first looks?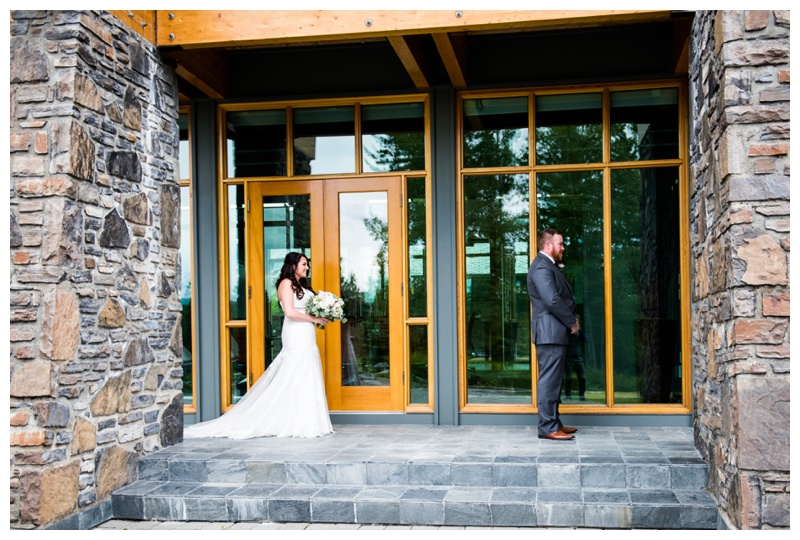 Even Guinness got to be at the first look!
Puppy Kisses!
How stunning are these ladies?!? I love their spot pink floor length gowns.
Beth was absolutely stunning in her lace dress! 
These boys cleaned up pretty good too! I LOVED their grey suits.
They were also given different fun socks as part of their gifts.
They were such as stunning group.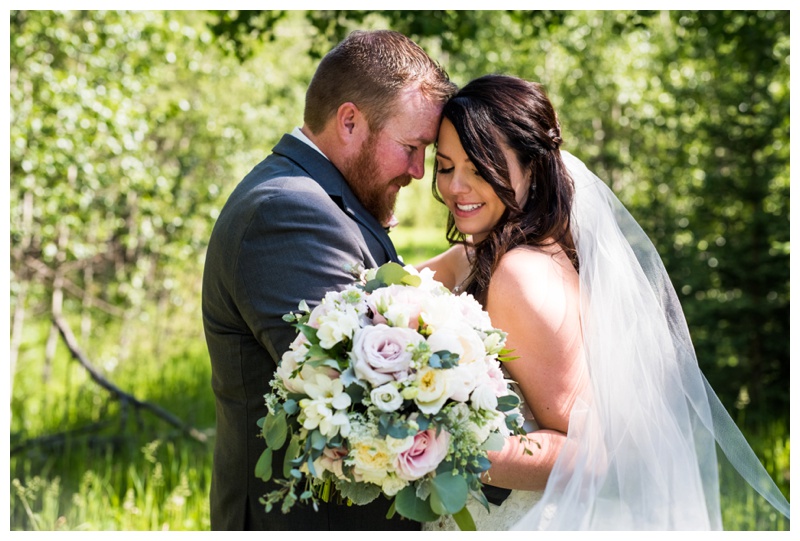 Shane & Beth are incredible together. You could just feel the love they have for each other.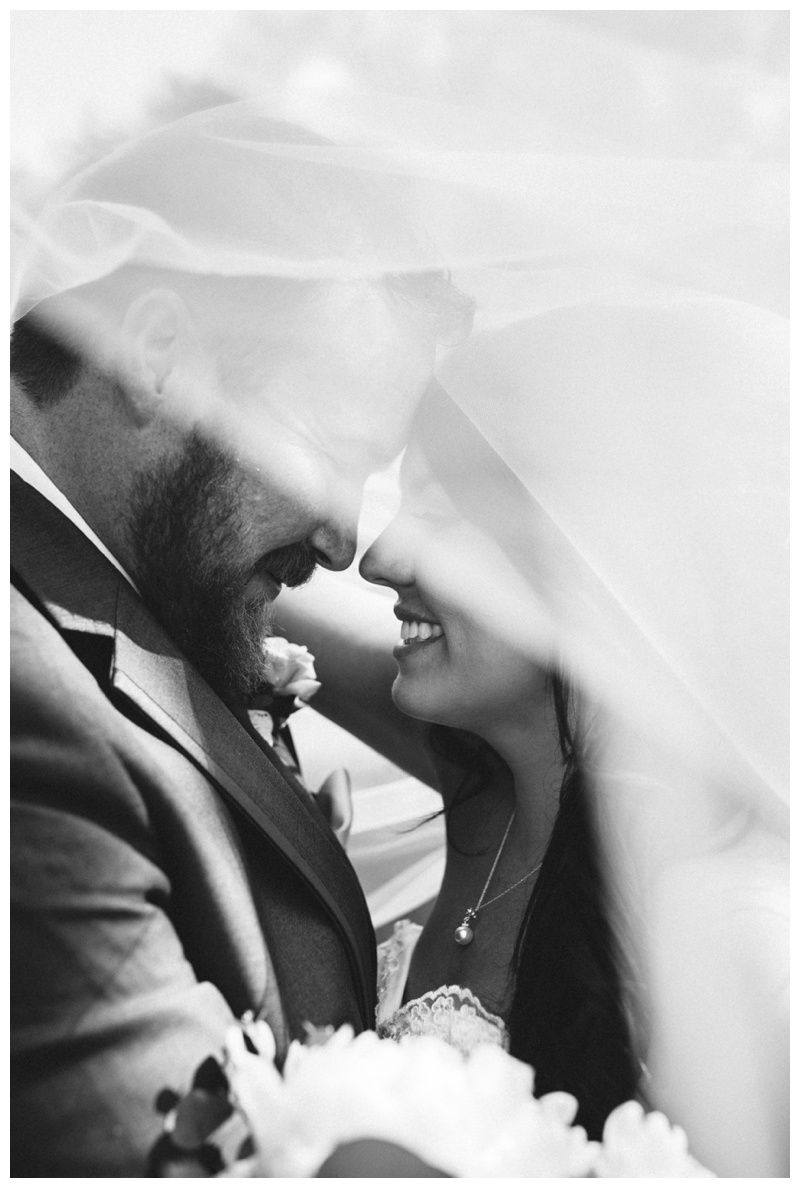 Beth's veil was so fun to play with in photos. There is  just something so romantic about a long veil.
The grounds of Azuridge are stunning.
Loved that Beth's grandfather brought his old truck to the wedding. it was perfect for photos.
Loved using the truck for this ring shot too.
Check out this view they have at Azuridge!!! So SO stunning!
Their outdoor ceremony was perfect overlooking the ponds. Can you believe that Shane and Beth made these beautiful wooden signs?!?
The floral arbour was a stunning addition to their ceremony too. Pretty Petals did an awesome job draping it in flowers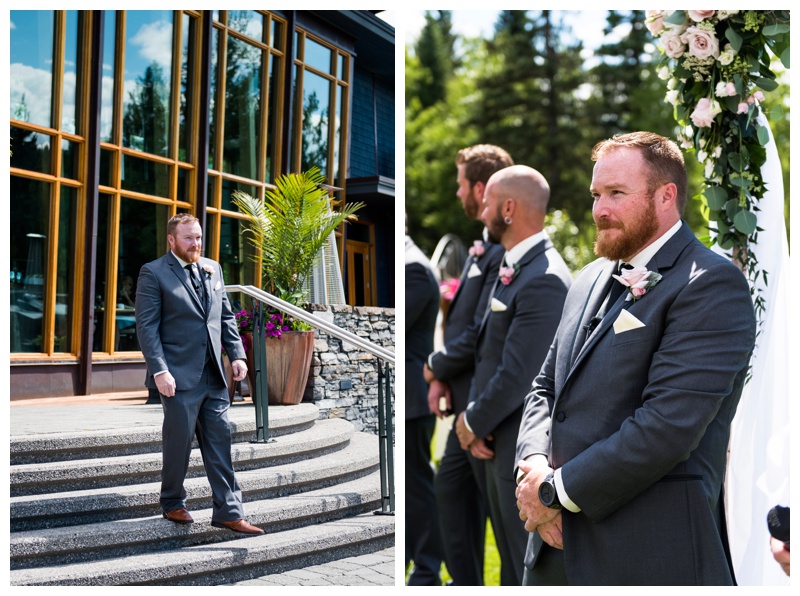 Their reception space was drop dead gorgeous. They mixed round tales and square and covered each other them with rose golden and lace table clothes. It was to die for!
The tall floral centerpeices made the perfect statement prices when you walked in too. 
Megan, Beth's talented sister made the stunning cake!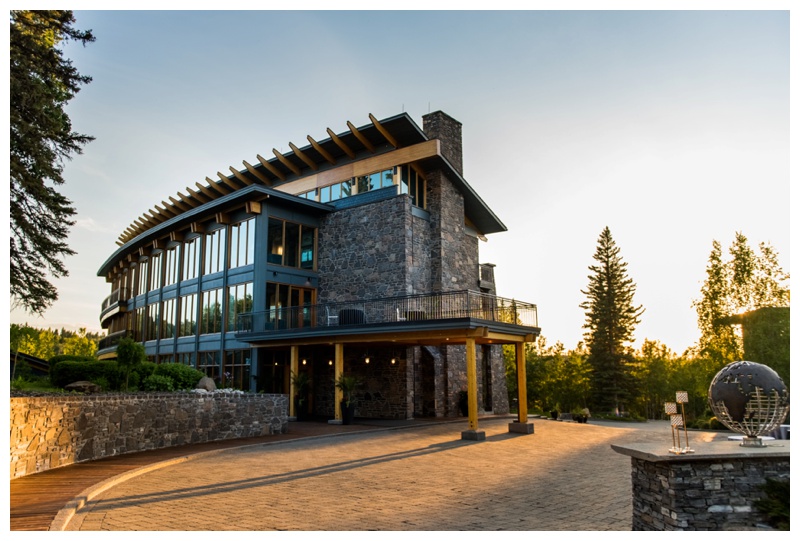 We snuck the couple away from their dance for a couple sunset photos in the beautiful golden summer light.
If your looking for a Wedding Photographer in Calgary, Cochrane, Kelowna, Banff or Canmore get in touch with me at info@paisleyphotos.ca
CONNECT WITH ME ON SOCIAL MEDIA
Instagram www.instagram.com/paisleyphotography
Facebook www.facebook.com/PaisleyPhotos
Twitter www.twitter.com/paisley_photo
Pinterest www.pinterest.com/paisleyphotos