Banff Proposal Photography | Carrier & Christie | Banff Photographer
Carrie had been planning this moment for months. Researching the perfect spot in the mountain to take Christie for dream vacation. You see, Christie had been wanting to explore Banff for years. She had seen photos from friends who had honeymooned up here a couple years ago and since that moment she had become hooked. Carrie knew this, so when the time to propose came, she knew exactly where she wanted to pop the question.
Carrie reached out to me for help in the planning as well as to photograph the special moment. I was immediately on board as I have a soft spot for proposal photography as my hubby did the same for me. Carrier told Christie that they were going for bunch at this great spot they had heard of. Little did Christie know that instead of bacon and eggs she was going to get a diamond. This rainy Thursday morning at Lake Minniwanka was perfect. The cooler damp temperatures kept most of the tourist away so they had the whole place to themselves. Carrie got down on one knee on the shores of Lake Minniwanka and asked Christie for her hand in marriage. There was no hesitation at all from Christie and she immediately said YES!
Congrats you two, I could not be more happy for you both and thank you for asking me to be a small part of your amazing proposal story.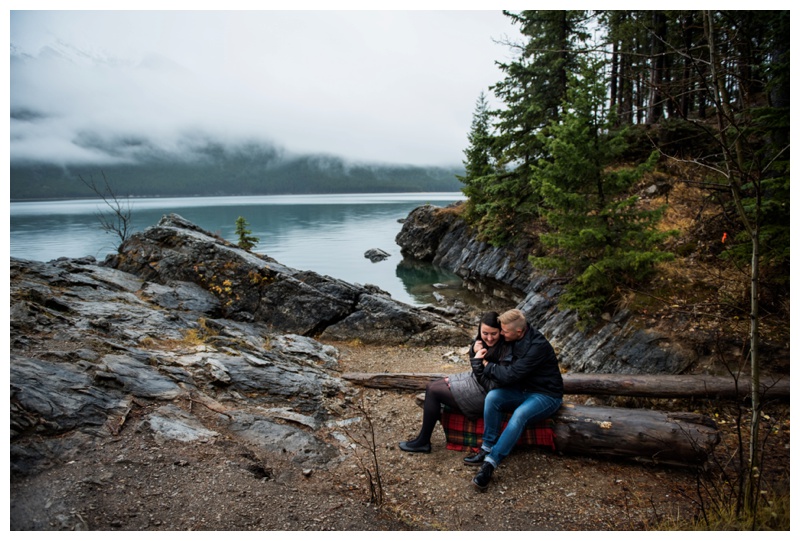 If your looking for Proposal Photography and are in the Calgary, Cochrane, Canmore or Banff area get in touch with me at info@paisleyphotos.ca
CONNECT WITH ME ON SOCIAL MEDIA
Instagram www.instagram.com/paisleyphotography
Facebook www.facebook.com/PaisleyPhotos
Twitter www.twitter.com/paisley_photo
Pinterest www.pinterest.com/paisleyphotos