Calgary Cake Smash Photography ~ Everly's First Birthday Cake Smash
Being a Calgary cake smash photographer I get to meet some of the cutest one year olds ever!! Over the weekend I met sweet Everly when she came to the studio for her first birthday cake smash session. She is such a cutie and all the insanely adorable outfits her mom brought were the icing on the cake. I think my favourite has to the be the light pink lace romper in the first couple photos. Is it weird that I wish they came in adult size?!? Too, too sweet! Everly's talented mom, Stephanie, also made the very sweet white rosette icing cake that she got to smash! And boy oh boy did she smash it! She was a little hesitant at first but then realized that she was allowed to eat all the yummy goodness and make a huge mess! I think at one point there was icing flying left and right and all you could hear was sweet Everly giggling like crazy! Do I not have the best job ever or what?!?
Then it was into the sweetest cast iron wash tub to clean up. These are some of my favourite photos from the session, and even Mr. Ducky got to join in on the splashing fun! Again she wan't quite sure what was going on but in the end loved bath time.  Happy 1st Birthday Everly! It was such a pleasure capturing all your messiness!!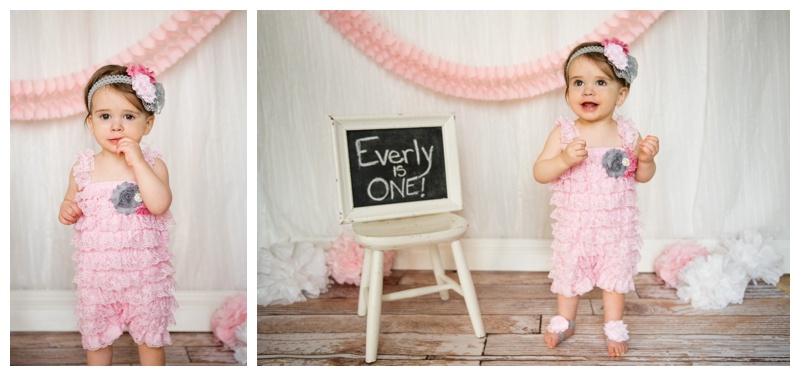 Look how sweet Everly's little lace romper is?!? Don't you just one one too?
Such a big girl sitting by herself in the chair!
Look at this cake! How talented is Everly's mom Stephanie? She even made the bunting banner cake topper!
She is seriously the cutest ever! Such a fun cake smash session!
I love that she had so much fun splashing in the tub!
[socialring]