Calgary Carburn Park Wedding Photography | Dave & Kari | Calgary Wedding Photographer
I had been looking forwards to Dave & Kari's wedding day since the day I first met them. They are two of the kindest people I have ever met. On August 26th, 2017 Dave & Kari tied the knot in front of their friends and family at Bonivista Baptist Church. It was such an amazing ceremony so full of laughs and so much joy, topped off with an awesome high five between them after the first kiss! So fun! For their Calgary Carburn Park fwedding photography session we tucked away down by the stunning Bow River. It was such a hot day staying cool in the shade of the amazing trees was the perfect location for their photos. Dave and Kari were so perfect together. They reminded me so much of royalty on the wedding day. Kari look like a queen and Dave a king!
Then it was off to the Glenmore Inn for their crazy fun reception. From the speeches to the dance party the whole night was a blast! Congrats Dave & Kari your day was such an honor to be apart of! Thank you for trusting us to document you wedding day!!
Now here is a little from the bride and groom:
1.What is your engagement story (please include lots of details)?
We were on vacation in BC when we got engaged. We had discussed getting married several months beforehand, so Kari kind of thought something might happen on this trip. On the second-last day of our vacation, we spent the morning doing some hiking and sight-seeing around Revelstoke, and Kari asked Dave if he wanted to head back to town to grab lunch. Uncharacteristically, Dave said he wanted to forgo the food to make sure we had enough time to do the hike up Mt. Revelstoke that we talked about doing. Kari thought Dave's insistence on hiking was a bit unusual, but happily agreed since we were rained out last time we wanted to do that hike a few years back. We headed out and drove up to the entry gate of Mt. Revelstoke, only to find that we were about a week too early and most of the park had not yet opened for the season. As we were driving away, we noticed another small trail head by the Nils Nilsen ski jump that was, thankfully, open and ready to go! We did a short hike around the area and then decided to head up the hill of the actual ski jump itself. It was a hot day and the hill was steep, but we soon reached the lookout point. As Kari was taking pictures, Dave dropped to one knee (Kari assumed out of exhaustion), pulled out the ring he had been keeping hidden in his backpack all week, and asked Kari to marry him. Kari immediately said yes.
2. What advice would you give to future brides & grooms for their wedding day?
Comfortable shoes are important! Between the ceremony, pictures, the reception, visiting people, and dancing, you're going to have a long day. It's important to make sure you have comfortable shoes to change in to.
Make sure you eat enough. Making time for meals helps, and if you can, have someone pack some snacks.
3. What was your biggest surprise on your wedding day?
Our biggest surprise was that there were no major surprises! With all the people and things to coordinate, there was the potential for things to be forgotten or lost, and a variety of mistakes that could have been made. Luckily for us, aside from a few very minor hiccups, things went off without a hitch. We had a lot of people supporting us that day, and they deserve a lot of credit for helping things go so smoothly.
4. What one moment will last with you both forever?
Saying our vows was a beautiful moment. Though the ceremony seemed to fly by and we were surrounded by hundreds of people with all eyes on us, when we held each others' hands and pledged our love and faithfulness to each other, it felt like we were the only two people in the room.
5. What was your wedding inspiration? (think decor, overall theme and feel of the day, etc)
Our whole idea for the wedding was to keep it simple and meaningful. We started by choosing a few colors we liked (blue and gold) and went from there in terms of choosing the look of our decor and clothing. Kari is extremely fortunate to have a fantastic friend and bridesmaid who excels at DIY projects, so she graciously put a lot of work into unique pieces like the guestbook, aisle decorations, and of course the bridal party's bouquets and boutonnieres.
We made the day personal by incorporating people, places, and things that meant a lot to us and our families. We had our ceremony at the church Dave has attended for several years, and our officiant has known Dave since they were both teenagers. Kari's Aunt did most of the music for the ceremony, including the song that Kari and her Dad walked up the isle to. We chose Carburn Park for pictures as it is close to where Kari grew up and spent countless days walking and running around the water there. It was also important for Kari to incorporate personal items from the women in her family by wearing her mother's veil, an amethyst ring from her paternal grandmother, and the gold locket that her maternal grandmother wore on her own wedding day.
6. Describe some of your favorite wedding details and how you came up with them.
Two of our favorite details were our wedding program and Kari's bouquet. The program for our wedding ceremony was pretty nontraditional, but we felt that it captured our sense of humour and the light-hearted feeling of our wedding day very well. As the program itself said, we found the idea for it on Pinterest, and Dave modified it to make it our own.
Kari got the idea for her broach bouquet from a TV show years ago, and it stuck with her ever since. She and her bridesmaid (Debi) worked on it for months, collecting, wiring, and assembling several different pieces of jewelry. Most importantly, many of the broaches and pins on the bouquet were donated by members of both Kari and Dave's families, and was another way that we helped make the details of our day meaningful to us.
7. Any advice for those planning their wedding now?
Plan ahead and book your vendors and venues as soon as possible! Calgary is a busy place for weddings, so make sure you get on things early. Also, stay true to yourselves as a couple and what you want for your wedding day. It's easy to become overwhelmed with options and everyone's (mostly well-meaning) opinions and advice, but ultimately you want your day to be something that is meaningful and enjoyable for you and your spouse.
Invitations: Evite
Flowers and Decor: Bridesmaid, Debi C.
Bride's Dress: Durand Bridal
Bridesmaids Dresses: Addition-Elle
Hair and Makeup: Valerie Guzman Makeup Artist
Groom and Groomsmen's outfits: Black and Lee's Tuxedos
Officiant: Jared Patterson
DJ: Sounds Unlimited
Wedding and Engagement Rings: People's Jewelers
Photographer: Paisley Photography
Ceremony: Bonavista Baptist Church
Reception: Glenmore Inn
How amazing is Kari's Boquet?!? It was made by her very talented bridesmaid Debbi out of all Kari and Dave's family brooches.
Kari was such a stunning bride!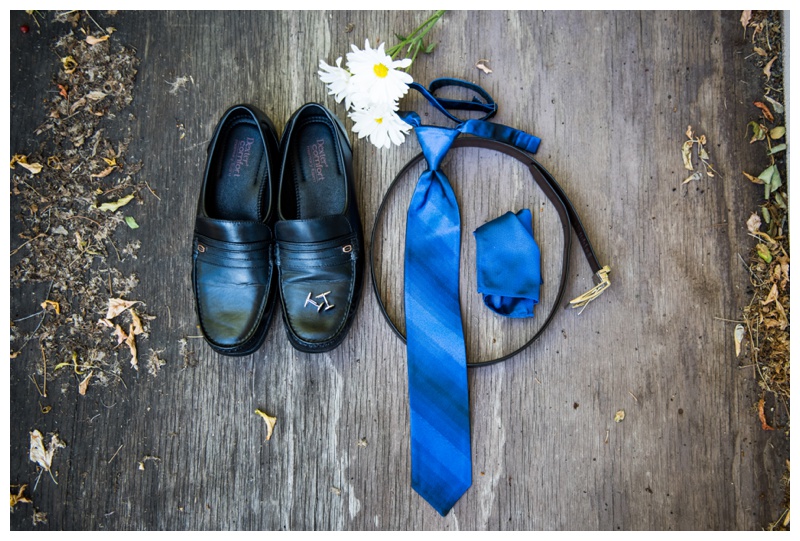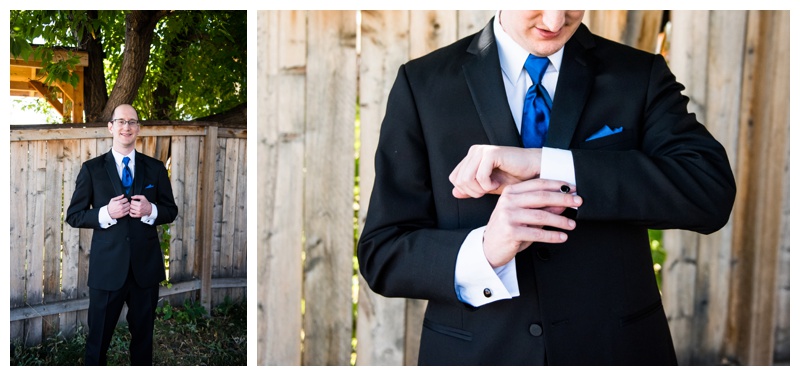 Their beautiful wedding ceremony at Bonivista Baptist Church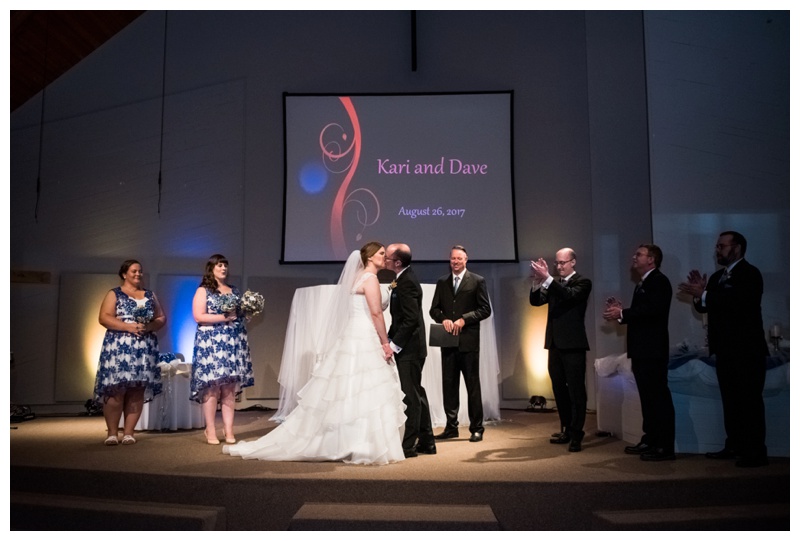 Sealed with a kiss and a high five!
I absolutely love the blue and white lace bridesmaid dresses.
Kari's veil was actually her mothers veil that she wore at her wedding. I love these small sentimental things that make each wedding so special and unique.
Those boys cleaned up pretty good too!
How adorable are these two?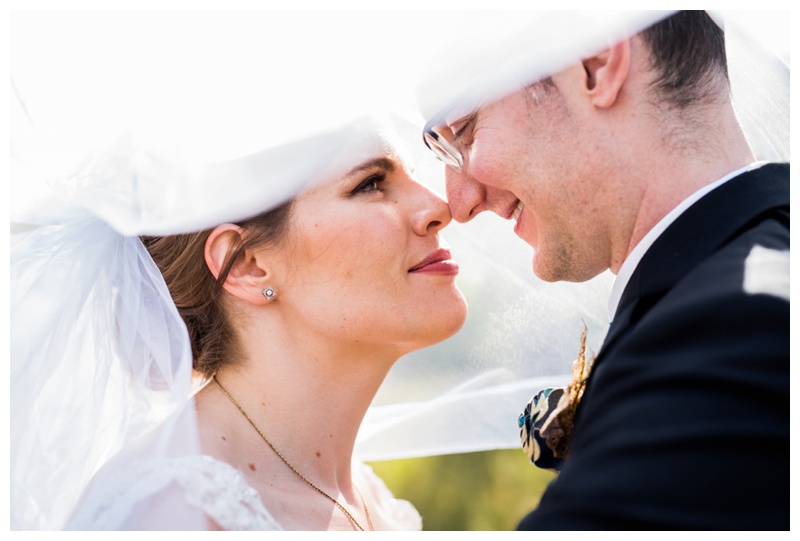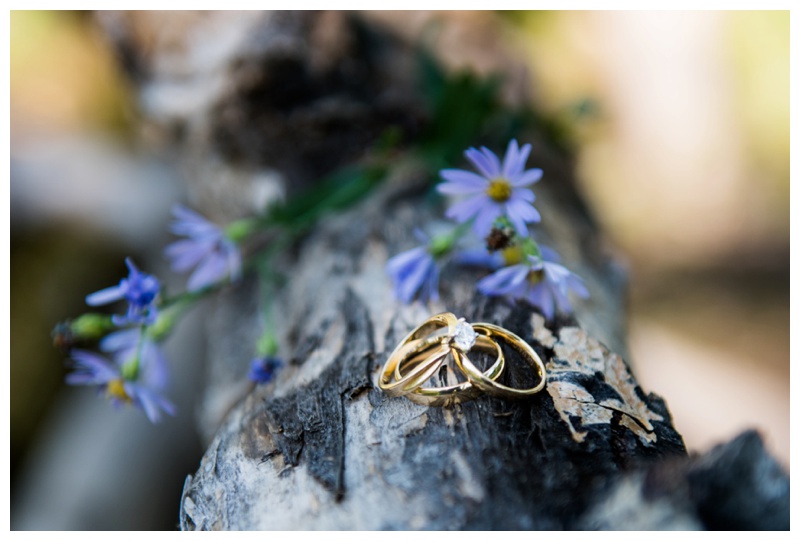 Their wedding reception was at the Glenmore Inn
We snuck them outside just as the sun set for the night and just as it tucked behind the horizon the sky lit up with the prettiest pink glow. So pretty and so romantic.
If your looking for a Wedding Photography and are in the Calgary, Cochrane, Canmore or Banff area get in touch with me at info@paisleyphotos.ca
CONNECT WITH ME ON SOCIAL MEDIA
Instagram www.instagram.com/paisleyphotography
Facebook www.facebook.com/PaisleyPhotos
Twitter www.twitter.com/paisley_photo
Pinterest www.pinterest.com/paisleyphotos