When Rob & Alicia contacted me telling me they were planning a Halloween wedding on October 31, 2016 I got super excited! I had never shot a Halloween wedding before and thought it would be so much fun! Alicia and I had actually gone to high school together so at out first meeting not only did I get to hear all about their amazing spooky details but we also got to catch up and meet Rob.
Part of their Calgary Halloween wedding was you have to come in full costume! SO FUN! It was amazing walking into their ceremony and seeing all the incredible costumes and all the hard work everyone had put into them. Alicia wore the most stunning white and black lace appliqué wedding dress. She was breathtaking! Everyone thought she was going to wear black so it was a definite surprise to see her walk down the aisle in white!! They also planned that their bridesmaids would be witches instead of the typical matching bridesmaid attire. The groomsmen also got decked out at vampires with the vampire teeth and all! Every detail of this Halloween wedding day was bought, sourced or made by Alicia and Rob and their amazing friends and family. No part of their space was without some sort of spooky decor and it all made the Town & Country Centre in Airdrie come to life.
One of the highlights of their day had got to be the dance and seeing every boogie in their costumes. At one point there was a T-Rex dance of and I can honestly say that is something I had never seen! Thank you Rob & Alicia for trusting me to be the one to capture your amazing wedding day! It was so stinking fun and kinda want to make shooting Halloween weddings an annual tradition! 😉
Now here is a little bit from the bride and groom:
What is your engagement story (please include lots of details)? We had been together almost five years when we got engaged. We had just bought our first home and I was very ready to say YES! Poor Rob was definitely starting to feel the pressure I was just so excited for the next phase of our lives together. We were at the annual staff BBQ that Rob's boss holds at his acreage every year. He is a photographer and takes family photos every year for all his staff. I had missed the year previous and was really looking forward to a nice photo of us. When it was our turn Rob led me over to the gazebo (decorated in beautiful autumn garland, which didn't strike me as odd at all). I suggested we sit on the floor on the gazebo for our shots, to which Rob emphatically said "NO!" Before I could argue he took both of my hands in his. He told me how today was such a special day (His bosses 29th anniversary with his wife) and how much he loved me and wanted us to have our own special day to celebrate. He then took a little purple box out of his pocket, and with hands shaking asked me to be his wife! I was so shocked I didn't even cry! I said "Of course! YES!" and then kissed him. Best part? His boss photographed the whole thing! So we have that beautiful moment captured, and then got to share the joy immediately with some of the most important people in our lives. It was perfect!
What advice would you give to future brides & grooms for their wedding day? The only people who will know if something didn't go to plan is you so don't sweat it! Make sure you have cheques or e-transfers set up for your vendors and put someone else in charge of making sure everyone is paid. You will work really hard to plan your day, you need to enjoy it with your friends and family!
What was your biggest surprise on your wedding day? We had not one but two T-REXES at our wedding reception, which was awesome! I also surprised Rob by singing to him during our ceremony. He thought it was my friend Jarred who would be singing. Surprise!
What one moment will last with you both forever? Seeing each other for the first time on the day. Happiest moment of our lives!
What was your wedding inspiration? (think decor, overall theme and feel of the day, etc) We got married on Halloween, so everything was spooky and fun. All of our guests got into the spirit and came in amazing costumes! We made, or repurposed everything ourselves, from hand painted invitations and save the dates to witch brooms and a full sized Candy Coffin complete with skeleton. Our plan was to throw a big Halloween party and have a wedding at the beginning! It was so much fun!
Describe some of your favorite wedding details and how you came up with them. Rob's invitations and save the dates were one of my favorites. He hand painted the originals and the we had them printed. Seeing his artwork in the homes of our loved ones is so special! The witch brooms in place of bouquets is another of my favorites. As my bridesmaids were all dresses as witches they needed something spooktacular! The wood for the handles came from my maid of honor's parents and the grass for the brushes came from Rob's bosses place, where we were engaged. Each handle was hand carved and sanded smooth and then painted. The brushes were attached and then I added some flowers throughout the bristles. They were a labour of love and literally caused blood sweat and tears but they turned out great and my bridesmaids now have a wedding keepsake and go to Halloween decoration for their homes! 🙂
Any advice for those planning their wedding now? HAVE FUN!!!! Try not to stress. This is an important day, but it's just one day. Your marriage is the most important part! Make sure your day reflects who you are as a couple and the things you love. Don't worry about pleasing other people. Just be you, and the people who love you will have a blast because you're having one too!
Transportation – AmPm Limos
Cupcakes – Avenue Cakery & Bakeshoppe
Makeup – Studio 150 Make-up & Aesthetics
Hair – Christa Gelasco
Caterer – Patricia and team from Heaven GF Artisan
Invitations – Rob Adams printed by Vistaprint
Bridesmaids dresses – Blame Betty
Suit rental – The Bridal Centre
Dress – The Bridal Centre
Favours – Bulk Barn
Decor – Alicia and Rob Adams, supplies from Michaels
Linens – Cody party Airdrie
Photographer – Paisley Photography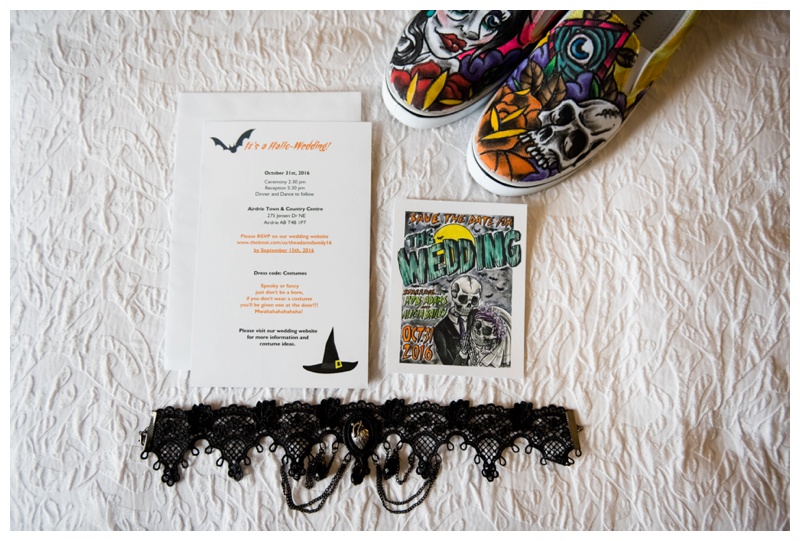 Rob hand drew these amazing wedding invitations
I also love that instead of flowers the bridesmaids and Alicia carried these hand made brooms
Alicia's dress was absolutely stunning!!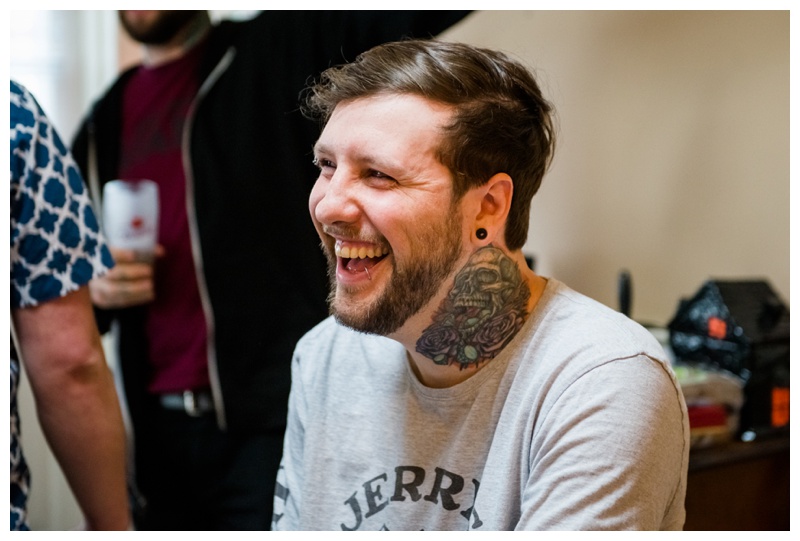 The boys were decked out in their vampire attire with fangs and all!
How cute is this flower girl witch?!?
Such a fun wedding party!!
This is was just a pull off on the side of a back road and it made for the perfect spot for their bride and groom portraits!
I can get over this amazing sunset!!
These guys had one of the best first dances!
I mean two t-rexs at your wedding?!? Who else can say that happened?
We also had to come in costume I thought I would also post a photo os us! Jason in his old school press boy outfit and my channeling my inner Great Gatsby! It was so fun to dress up and be apart of the festivities! 🙂
If your looking for Wedding Photography and are in the Calgary, Canmore or Banff area get in touch with me at info@paisleyphotos.ca
CONNECT WITH ME ON SOCIAL MEDIA
Instagram www.instagram.com/paisleyphotography
Facebook www.facebook.com/PaisleyPhotos
Twitter www.twitter.com/paisley_photo
Pinterest www.pinterest.com/paisleyphotos