As these two ran out of the church through a tunnel of their loved ones and through more bubbles then I have ever seen, the sheer joy on their faces said it all. They were finally husband and wife, the moment they had waited for, for what seemed like forever! On a perfect warm September day Tim & Lisa-Anne became husband and wife. Their elegant Catholic ceremony at St. Mary's Cathedral was family focused and so full of love. Their stunning reception was in the ballroom in Hotel Arts. Every detail of their room was perfectly them and absolutely breathtaking. The gold touches, the lace overlays, the stunning florals in the miss matched vases made their room classically elegant. From start to finish their day was perfection, and it was a honor to be a part of it. Congrats Tim & Lisa- Anne I wish you all the happiness in the world!
A little bit from the happy couple:
1. What is your engagement story (please include lots of details)?
Our engagement story has a bit of a prelude.  When we first started dating, Tim went to Phoenix on a golf trip then had a few days on his own.  Last minute I flew down to meet him.  We did several things around Phoenix including a short hike to a beautiful gazebo that overlooks all of Phoenix in one direction and the desert in the other. As our family has a place in Phoenix, we've been a few time since then.  On our last trip, Tim suggested doing the hike again. We had no plans, so off we went.  We got to the gazebo, took some pictures, mostly silly ones, enjoyed the sun and the view. While enjoying the view, Tim got down on one knee and asked me to marry him.  I think I replied with an excited "Absolutely!".
2. What advice would you give to future brides & grooms for their wedding day?
Enjoy every second!  Also carve out a few minutes for you and your new spouse.  We sent our bridal party to CharBar for some snacks and drinks while we continued photos, that gave us a limo ride together just the two of us. It was nice to take a break and enjoy the moment together
3. What was your biggest surprise on your wedding day?
Part way through our father daughter dance and then the mother son dance, we invited any other father/daughters and mother/sons to join us on the dance floor.  It was amazing to share that moment with our family and friends and see how many people joined us on the dance floor.  It was a beautiful moment.
4. What one moment will last with you both forever?
Seeing each other for the first time, Tim waiting at the end of the aisle and Lisa walking through the doors.
5. What was your wedding inspiration? (think decor, overall theme and feel of the day, etc)
Our wedding was a vintage elegant theme.  Lots of lace, deep amethyst purples and golds.  For me, the bride, it reminded me of my Grandma. I'm a bit of an old soul and have always loved that classic vintage feel.
6. Describe some of your favorite wedding details and how you came up with them.
Having an unplugged ceremony was one of the best decisions that we made.  It was so wonderful to walk up and later back down the aisle and see our guests faces and smiles and not their phones and cameras.  The flowers were absolutely amazing.  We trusted our dear friend Loriann from Make Bee Leaves and she truly worked her magic.  Despite lots of last minute substitutions, as several of her suppliers were affected by the hurricanes, the flowers were stunning.
7. Any advice for those planning their wedding now?
As per Tim, "Let your bride-to-be do it".  For me, I started telling myself once we started planning that anything that happened after the Wednesday before the wedding was going to happen, something will go wrong but don't sweat it.  I think that really helped me not sweat the small stuff and thoroughly enjoy our day.  Also, seriously consider hiring a wedding coordinator.  It means you and your family and friends don't have to worry about anything but enjoying the day.
Venue: Hotel Arts
Makeup Artist: Rachel Jones Makeup Artistry
Decor Rentals: Chair Flair
Chair Rentals: Chantele Ashley Events
Photographer: Paisley Photography
Transportation: Paramount Limo
DJ: DJ Nico Audiowerx
Cake: Sweet Relief Bakery
Florist: Make Bee Leaves
Such a lovely bunch of bridesmaids!!
I loved all of of Lisa-Anne's details. She made for such a stunning bride!
Lisa did a first look with her dad. Such a sweet moment.
What a handsome bunch of groomsmen!
St. Mary's Cathedral was a stunning ceremony location.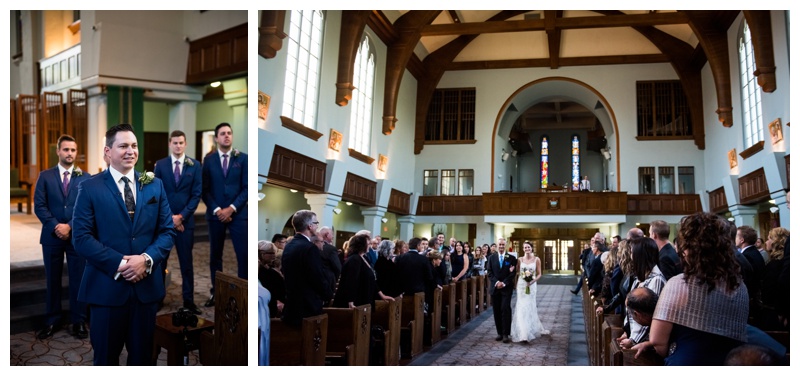 They did a bubble exit leaving the church and it could be one of my favourite moments of their day!!
Chair Flair & Chantelle Ashley Events transformed Hotel Arts into exactly what Lisa- Anne envisioned. It was absolutely breathtaking!

Lisa's family wrapped them in streamers for their first dance. So fun!
If your looking for Wedding Photography and are in the Calgary, Cochrane, Canmore or Banff area get in touch with me at info@paisleyphotos.ca
CONNECT WITH ME ON SOCIAL MEDIA
Instagram www.instagram.com/paisleyphotography
Facebook www.facebook.com/PaisleyPhotos
Twitter www.twitter.com/paisley_photo
Pinterest www.pinterest.com/paisleyphotos