Canmore Silvertip Golf Course Wedding | Wayne & Ashley | Canmore Wedding Photographer
On April 21st 2018 Wayne & Ashley tied the knot! It was one of those weddings where the whole day was filled with so much love and excitement. The whole week leading up to the wedding day the weather forecast was calling for rain and snow. As Ashley & Wayne were getting ready the morning of their wedding the skies were cloudy, grey and dark. They had planned for an outdoor ceremony at Silvertip resort, but they weren't sure that was going to happen due to the downpour of rain. With a half hour till the ceremony Wayne made the call to keep the wedding outside and had faith the rain would stop and the mountain views would clear up. As Ashley took her first steps down the aisle the clouds disappeared and the sun started to shine giving their wedding ceremony one of the most stunning ceremony backdrops I have ever seen. Sunshine and and mountain views was the theme for the rest of their wedding day, and they could not have asked for better weather.
Their Canmore Silvertip Golf Course wedding reception was stunning. With greenery and flowers dripping for each table and personal touches everywhere you looked, their room was breathtaking. They ended their wedding day dancing in front of the Rocky Mountains with only the light from the setting sun and the crowd of loved ones surrounding them with sparklers. From start to finish their wedding day was perfection, with a bit of surprise thrown in. It was an absolute honor to have been a part of their incredible wedding day!
Congrats Wayne & Ashley! We wish you a lifetime of love and happiness!
---
Here is a little from the couple:
1. What is your engagement story? (please include lots of details)
To make up for the fact that Wayne always has to work the weekend of my birthday, he planed a romantic winter getaway for the two of us on the following weekend.  In Jan of 2017, Wayne took me to the Fairmont Chateau Lake Louise where there was already excitement in the air as they were hosting the Ice Magic Festival with lots of amazing ice sculptures being carved on location.  After being upgraded to the Gold Club Standard at the hotel (an extra bonus!), we enjoyed dinner, drinks and checking out the Alpine Social, braving the cold to take in the ice sculptures.  The next morning over breakfast, Wayne suggested we take a walk to the end of the frozen lake, however I was rather hesitant as it was -25 degrees Celsius with a wind picking up.  Wayne insisted and we bundled up proceeding to the end of the frozen lake in the freezing cold.  It was all so beautiful though and we started taking a few pictures as mementoes of the trip.  Although I wanted to return to the hotel and warm up, Wayne encouraged me to stay and wait until another couple nearby had left so we could get some better pictures and selfies.  I should have known something was up then as Wayne hates having pictures taken!  Once the area was totally ours, Wayne suggested I look towards the Chateau and he would take a picture of me from behind.  When I turned around, I found Wayne down on one knee in the cold snow with a gorgeous ring outstretched towards me.  I'm not sure what all was said at that point or how I responded but at that moment, I was the happiest girl in the world!   I was so shocked that he had been able to pull this off without me suspecting in the least.   We walked back to the Chateau with me refusing to wear my gloves, despite the cold, so I could admire the new accessory on my finger.  We spent the rest of the weekend taking in the breathtaking beauty of Lake Louise and enjoying every moment, reliving the magical proposal.
2.  What advice would you give to future brides & grooms on their wedding day?
Although it will be very hard, try to let yourself relax and enjoy the day.  Remember the reason you are celebrating and that the best is yet to come!
3.  What was your biggest surprise on your wedding day?
Wanting to take in the fabulous scenery of Canmore, we had planned to have an outdoor ceremony with the beautiful mountains as a backdrop. We knew it was a bit of a gamble with our wedding date being April 21st and sure enough, the morning of our wedding day, we were a bit stressed to see dark clouds rolling in which proceeded to rain and then snow.  Time was of the essence as we had to make the call of whether to switch to an indoor venue or stick with Plan A.  Ultimately, we decided to move forward with the outdoor ceremony we had dreamt of and made plans to incorporate umbrellas and shawls.  In a miraculous turn of events, just as we arrived at the ceremony location, the clouds parted, the sun shone through and the majestic mountains appeared like the guests of honour they were!  It made our wedding ceremony seem all the more special and celebratory.
4.  What one moment will last with you both forever?
We will both always remember the moment as I started to walk down the aisle and we saw each other for the first time.  We were oblivious to the other guests and just seeing the look on each other's face made us feel that we were meant to be together forever.
5. What was your wedding inspiration? 
When searching for a venue, I had wanted something rustic and Wayne had wanted something upscale.  We both knew we wanted to get married in the mountains and if they were snow-capped, it would be even better.  So when Lesley Plumley, our wedding planner (LP Events) showed us Silvertip Golf Resort in Canmore, we both fell in love with it.  Our taste in décor is similar in that we like things simple and monochromatic and that is the vision we had for our reception which was brought to life by Lesley.  She created an ethereal look we both loved with greenery garland, white spray roses and romantic candlelight.
It was important to us that our guests be provided with a party atmosphere and that we could all relax and enjoy the celebration.  We were uncertain of which vendors to choose to make that happen but our first choice in a wedding planner, Lesley Plumley of LP Events made it all possible and she created a day we will never forget.  With her recommendations, we hired amazing vendors who worked together to make all our wedding dreams come true.
We are so pleased to have chosen Chantal and Jason Saville of Paisley Photography.  They made us feel so relaxed during the photo shoots and we know they have captured all the special moments of our day providing us with spectacular images to remember it by.  Richard Jans of Fun Factory, our DJ had everyone up dancing all night long.   He also provided a very fun photo booth that was a big hit with all.    Silvertip Resort was another vendor that went above and beyond with top notch service and exceptional food that our guests are still commenting on.  Our officiant was Rev. Klaus Ohlhoff and the meaningful ceremony he provided is one we will hold in our hearts throughout our marriage.  Thanks to Glamaway Beauty for helping us ladies look our best for the special day and putting us at ease while doing so.
6.  Describe some of your favourite wedding details and how you came up with them.
Wayne and I wanted to add a personal touch to our wedding décor while adding to the rustic mountain vibe.  We came up with the idea of making our own wooden signs out of pallets and painted wedding sayings and special bible verses on them.
Our dogs are very important to us and we wanted to incorporate our fur babies, Mischa and Lilly into our big day so having them be a part of the ceremony as "best pups" added an extra special touch.
Having the photo booth added so much fun to the evening festivities and it got our guests to relax, be goofy and have a good time.
7.  Any advice for those planning their wedding now?
The further out you set the date, the more planning and worrying you will do
Take advantage of an off season date as you will have more vendors to choose from and often there are reduced rates during the off season
Try not to get overwhelmed with how you think a wedding is "supposed" to be.  Do what will be special to both of you and will work best for you as a couple.
Vendors:
Venue: Silvertip Resort
Planning: LP Events
Hair & MUA: Glamaway
Wedding Gown: The Bridal Experience Cochrane
Bridesmaid Dresses: David's Bridal
Florist: Occasional Blooms
DJ: Fun Factory
Stationary: Vistaprint
Transportation: Highland VIP Group
Cupcakes: Crave Cupcakes
Decor: Chair Flair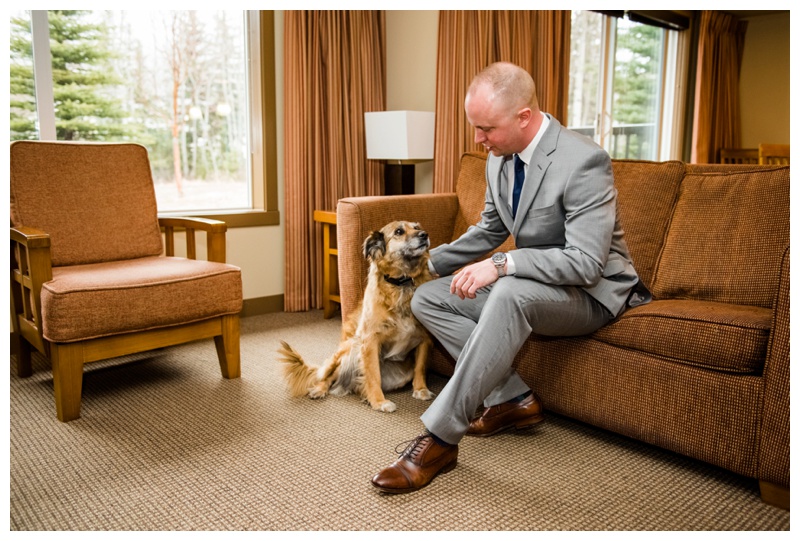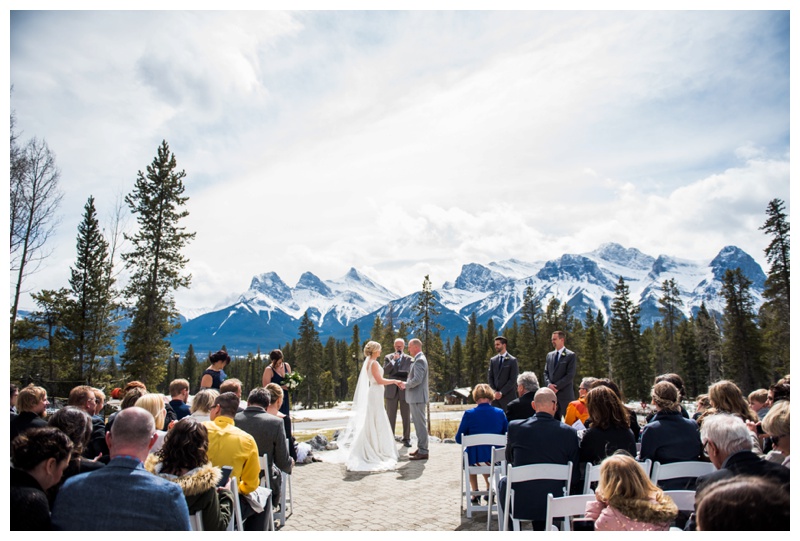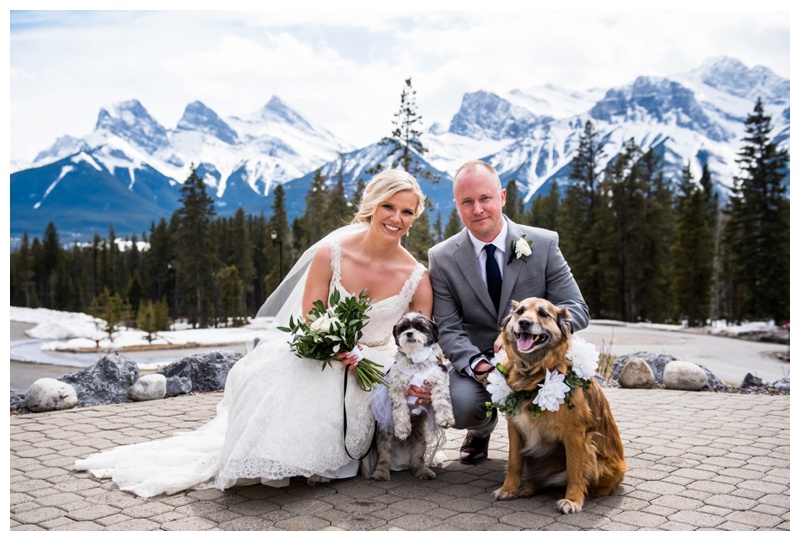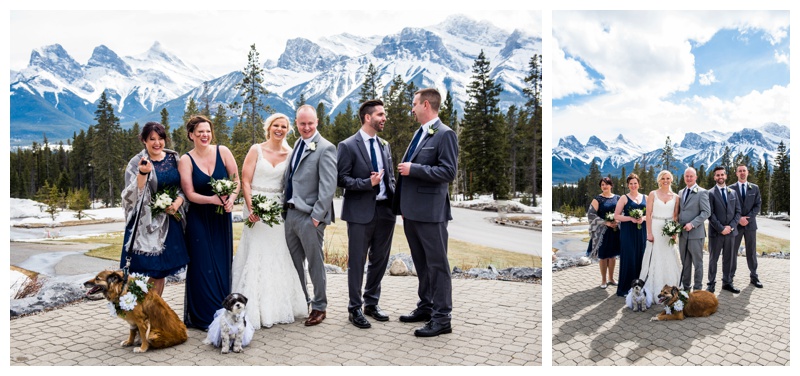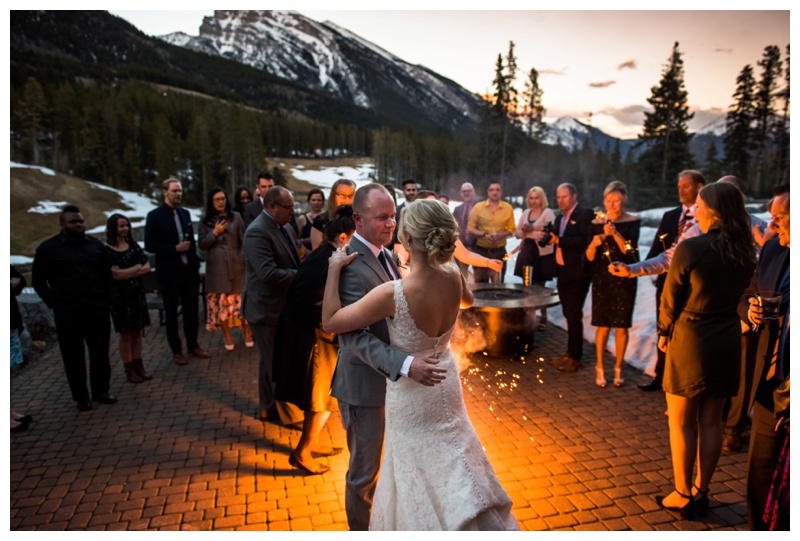 If your looking for a Wedding Photographer and are in the Calgary, Cochrane, Canmore or Banff area get in touch with me at info@paisleyphotos.ca
CONNECT WITH ME ON SOCIAL MEDIA
Instagram www.instagram.com/paisleyphotography
Facebook www.facebook.com/PaisleyPhotos
Twitter www.twitter.com/paisley_photo
Pinterest www.pinterest.com/paisleyphotos