Carmoney Golf & Country Club Wedding | Andrew & Shaye | Calgary Wedding Photographer
Shaye had been rehearsing for this very day since she was a little girl. Dressing up in a white dress as her family sang the wedding march, pretending to be the bride she would one day grow up to be. On September 30th, 2017 her dreams became a reality as she married her soul mate Andrew in her late mothers wedding dress. Andrew and Shaye's Carmoney Golf & Country Club wedding was all about family and friends and being surrounded by the ones they love most.
Their fall wedding day stated out cool and drizzly but that didn't stop them from braving the rain for photos outside. As they walked from location to location huddled under umbrellas they still had the biggest smiles on their faces. Then magically the rain stopped in time for photos and the sun shone through making for the most beautiful autumn wedding photos.
Their Carmoney Golf Course wedding reception was full of reminiscing, laughter a few tears but mostly love. From the amazing speeches to sneaking away at sunset for some amazing sunset photos their reception was perfect. It was such an honour to capture their wedding day and share in all the memories. Congrats Andrew & Shaye, thank you for trusting us to capture your love story.
Now a little from the couple:
1. 
What is your engagement story?
I was supposed to work my regular Sunday morning shift, but I had booked it off without Shaye knowing. I woke up bright and early as usual, and then I woke Shaye up and told her to pack an overnight bag. We got in the car, and without Shaye knowing where we were going, we drove to Moraine Lake. When we arrived we went out on a canoe and had an amazing time enjoying the views from the lake. We then found a secluded spot on the edge of the lake where we had a driftwood wine and cheese picnic while soaking up the sun. After this romantic time I set up a camera on a tripod to take a photo to remember the day. As the camera was clicking away, I looked into Shaye's eyes and told her how much I loved her and that I wanted to grow old with her (I may have stumbled on my words because I was so nervous), and then I got down on one knee and asked the big question. With tears in her eyes she said YES! We eventually made our way to Fairmont where we spent the night in a little log cabin and relaxed at the hot springs. It was a perfect day.
2. What advice would you give to future brides & grooms for their wedding day?
Spend the day enjoying each other, after all its your day! And don't sweat the small stuff because something will (inevitably) not go as planned, and there is 

absolutely

 nothing you will be able to do about it. Your day will still be filled with love and happiness and that is all that matters.
3. 
What was your biggest surprise on your wedding day?
How quickly the day went! It was a whirlwind but we wouldn't change any of it.


4. 
What one moment will last with you both forever?
Andrew: That moment when I first saw Shaye coming through the church doors and walking down the aisle.
Shaye: I couldn't actually see Andrew when I first walked into the church, but I will always remember entering the church and seeing so many familiar and friendly faces looking back at me and my Dad; I could feel such love as soon as we walked in and couldn't help but to cry because I was so happy. Then finally seeing Andrew tearing up at the other end was just a bonus
J
.


5. 
What was your wedding inspiration?
We tried to keep our wedding decorations classic and timeless. You could say our theme was romance, with rose petals, candles, and many personal and meaningful touches along the way. It was also so special to be able to wear my Mom's wedding dress and I also had Andrew's mum's necklace around my bouquet. They were both reminders that life is too short not to enjoy every minute, and our wedding day was a huge testament to that.  We also first met while working at a movie theatre over 10 years ago, so we had popcorn as our wedding favor in memory of that!
6. Describe some of your favorite wedding details and how you came up with them.
The kissing menu, we thought the clinking of glasses was tacky so we wanted family and friends to share memories, limericks, advise, etc. to get the bride and groom to kiss. We also "borrowed" my (Shaye's) parents' wedding guestbook – it was so neat to flip back and see so many of the same wedding guests who attended my parents' wedding were there to attend ours.  In memory of our mother's and grandparents who couldn't be present at the wedding, we had two lanterns lit and their wedding photos as a reminder of the long history of love that came before us.


7. 
Any advice for those planning their wedding now?
Plan things early – the month leading up to the big day is a mix of stress and excitement, and the less you have left to plan, the better!
Ceremony- St. Patricks Catholic Church
Reception Venue- Carmoney Golf & Country Club
Save the Dates + Invitations – Vistaprint, Paper Panache
Florist – Purple Orchid
Dress + veil – Marianna's Alterations, Mari's Bridal Alteration, Laura George Custom Bridal
Bridesmaid dresses – Bill Levkoff
Hair stylist – Beautiful Calgary Bride
Make up artist – Trena Laine
Cake – Cake My Day
Suits – Eph Apparel
Officiant – Father Andrew Maruszczak
DJ – Hype! Entertainment
MCs – Garrett Geck & Darci Collier
Violinist – Jeremy Gignoux
Videographer – Bryan MacDonald Films
Shaye's engagement and wedding band – DeBearj Jewellers: Custom jewelry Calgary
Andrew's wedding band – Carat Jewellers
Reception decorations – Monster in Law Wedding Rental, Weddings by Evanescents, Decor8 Events
Transportation – Cascade Limousine Service Ltd, Ambassador Limousine Service
Photographer: Paisley Photography
Her wedding gown was not only beautiful but also very sentimental as it was her late mothers gown. She had it altered to fit her and it was the perfect dress for her wedding day!
Attached to her bouquet was two photos, one of Shaye's Mom and the other of Andrew's.

Shaye was the most beautiful bride!
There wasn't a dry eye in the house when Shaye's Dad saw her for the first time wearing her mothers gown. Such a special moment.
These boy clean up pretty dapper too!
Their beautiful wedding ceremony tool place at St. Patrick's Parish in Calgary.
Then it was off to Fish Creek Park for their photos, and even dispute the rain this wedding party rocked their photos.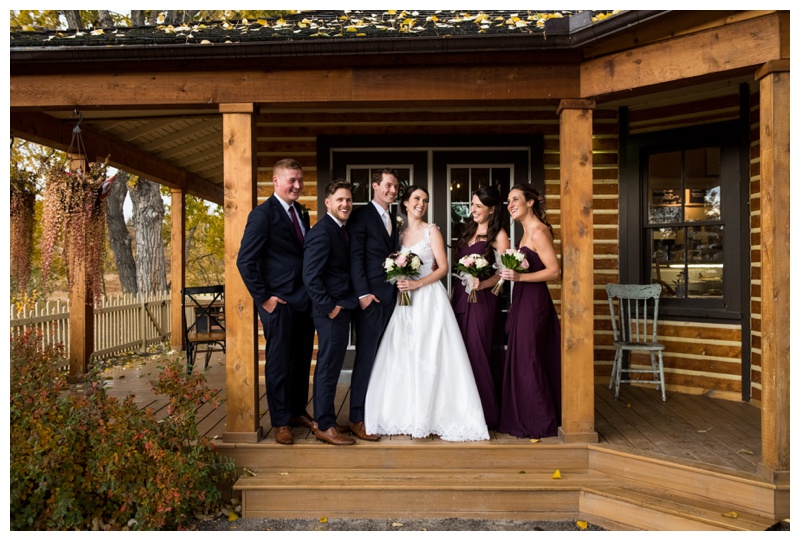 Using the veranda at Annies Bakery made for the perfect spot to stay dry but also warm up with hot chocolate and goodies.
Andrew & Shaye's wedding was planned for the fall, but they got lucky with the perfect autumn colors. All the leaves had just turned their stunning yellows, oranges and red colors so it made for the most amazing backdrop all day.

Purple Orchid did an amazing job on all the flowers.
Such a good looking wedding party.
Don't they look like they could right off a the cover of a magazine?
Their Carmoney Golf Course & Country Club Wedding reception was perfectly decorated in maroon and gold accents. The room was stunning.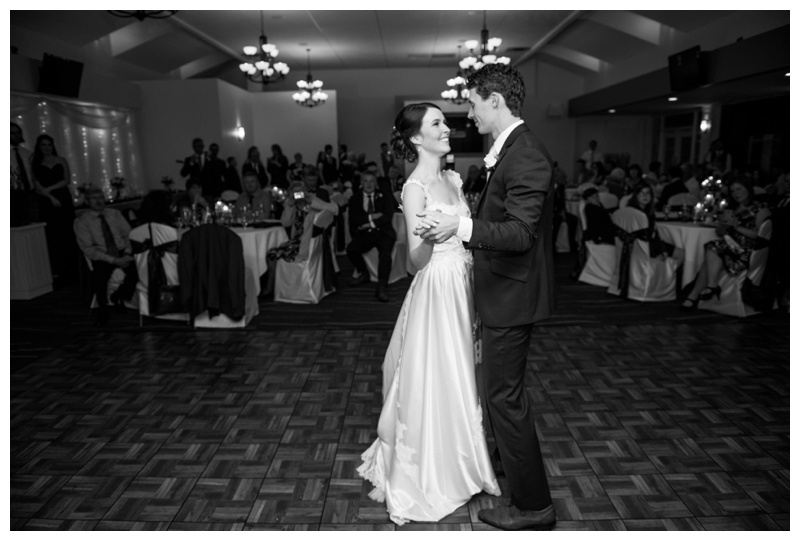 We snuck the two of the outside at sunset for a few golden hour photos and the sky was definitely showing off for them. As they danced on the green it was the perfect end to the most stunning wedding day.
If your looking for Wedding Photography and are in the Calgary, Cochrane, Canmore or Banff area get in touch with me at info@paisleyphotos.ca
CONNECT WITH ME ON SOCIAL MEDIA
Instagram www.instagram.com/paisleyphotography
Facebook www.facebook.com/PaisleyPhotos
Twitter www.twitter.com/paisley_photo
Pinterest www.pinterest.com/paisleyphotos