Cochrane McDougall Memorial Church Engagement Session ~ Cochrane Engagement Photographer
I got to meet Alex back in the summer when he was a groomsmen in one of my August weddings, so it was such a pleasure to photograph him again, only this time with his beautiful fiancé Hyla! Being a Cochrane engagement photographer I love shouting out new and interesting locations for sessions, and this has to be my new favorite! For their session we headed out past Cochrane to a small church called the Mcdougall Memorial Church. When we were first deciding on their location and I suggested this locations Hyla immediately loved this idea. She said that it reminded her of a church that she loved in the small town she grew up in on the East Coast. This is such a cute and quaint area on the banks of the Ghost Damn and was the perfect place for their session.
These two are incredible together and you can actually feel the love between them (even over the  hurricane force winds and blowing snow at their session). The sun was slowing setting throughout their session which made the blowing snow sparkle. Alex and Hyla have such a cute proposal story and it would make any girl weak in the knees! Alex proposed at the top of a mountain overlooking Shuswap Lake on Thanksgiving weekend. How cute is that?
Congrats you two! It was such a pleasure being a part of your engagement session!
Gah!! They are so stinking cute!! Just look at how Alex love on Hyla!!!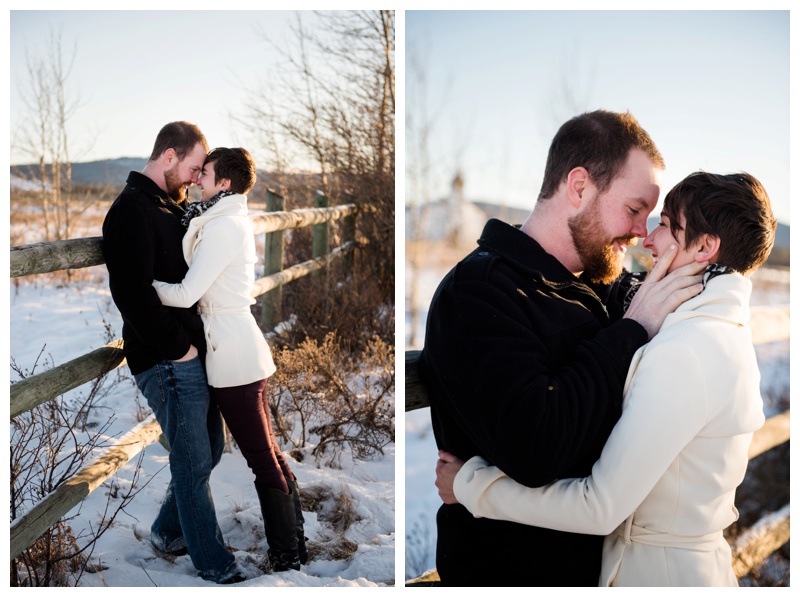 Look at this quaint church?!? Isn't it just the cutest place ever? The best part is in the summer months it is actually a fully functional church you can get married at!

I just love winter engagement sessions! The warm sun shimmering off the white snow is just magical! Nothing beats it!

[socialring]