Kelvin first messaged me on Instagram after finding my feed full of mountain photos. (what can I say, I LOVE shooting in the mountains). Him and Brittany are both from Winnipeg and planed a trip out to Canmore & Banff to scout out potential wedding venues for their 2018 fall wedding. They had fallen in love with the mountains a couple years back when they were here on vacation, and they knew they wanted say "I do" in one of their favourite spots. I had the pleasure of meeting them while they were here and got to capture their engagement photos on one of the most beautiful wintery days. They even brought their cute pooch Rango so of course he had to be in some of the photos too.
Brittany wanted open water for their session so we headed up Spray Lake Road and found some teal water at the end of Whitemans Pond. Then it was a short drive down the road to Goat Creek Trail for more stunning mountain views and snowy trees making for the perfect winter wonderland. These two absolutely rocked their session from start to finish. They were so comfortable with each other and posed so well together. Pretty much dram clients.
Congrats Kelvin & Brittany! It was an honour to capture these memories for you, and thanks for braving the cold and wind with me for your engagement session!
Rango loved being a part of photos!
He may have gotten a bit embarrassed when all eyes were on him though. haha
I absolutely loved their whole Goat Creek Trail engagement photos in Canmore.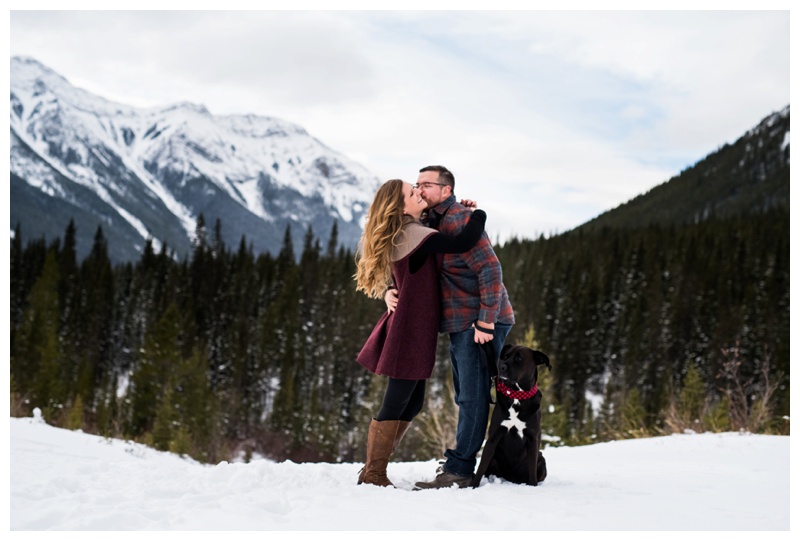 You can't eat those Rocky Mountain views!
Check out Brittany's bling! Kelvin you did goof my friend!
If your looking for Engagement Photography and are in the Calgary, Cochrane, Canmore or Banff area get in touch with me at info@paisleyphotos.ca
CONNECT WITH ME ON SOCIAL MEDIA
Instagram www.instagram.com/paisleyphotography
Facebook www.facebook.com/PaisleyPhotos
Twitter www.twitter.com/paisley_photo
Pinterest www.pinterest.com/paisleyphotos