Olds Willow Lane Barn Wedding | Mitch & Melissa | Olds Wedding Photographer
I have been waiting all year for Mitch & Melissa's Old's Willow Lane Barn wedding day. From our first meeting I knew their day would be unreal and I was right!
These two are two incredible people and their friends and family are just as fun! Their beautiful day started out with the ladies getting ready at the Ramada in Olds and the boys getting dapper at the barn. The it was off to willow lane in the biggest bus I have ever seen for their amazing first look. I loved that Mitch was blind folded and Melissa got to sneak up and untie it. First looks are always my favourite since there is so much excitement and emotion and these two had such a great one!
Melissa's Grandfather has the most amazing 1950 Chevrolet truck and we were not only lucky enough to use it in their wedding photos but it was also the way Melissa and her dad arrived to the ceremony. Be still my photographer heart! Talk about an entrance and a sentimental one at that. Mitch and his groomsmen are also all RCMP officers so just before the ceremony they changed in their red Serges. Even Melissa's son was in uniform.
The entire day was so full of love, laughter, and so much fun! It really was the perfect barn wedding. Thank you Mitch and Melissa for trusting us to capture your incredible wedding day. It was a true honour!!
Heres a little bit from Mitch & Melissa:
What is your engagement story?  Our engagement story begins back in December of 2012 when we met at the hospital. Mitch would always bring in "clients" (prisoners) and i would get called in to x-ray them. We began dating in february of 2014 and i knew instantly he was the one for me. Not only did he love me, but he loved my 2 children and became a huge part of their lives. He went to school functions and started coaching hayes' hockey team. We got engaged in October of 2015, we were at our long time friends house in Calgary and Mitch had me hold up cards that he had written while he recorded me. He told me it was for my christmas present so i couldn't see what was written. I was downstairs visiting when he came down and played the video which ended with him asking me to marry him. It was so sweet and comfortable i instantly said yes and we all celebrated with a rum. Fast forward to July 2016 in the midst of wedding planning we find out we are expecting a baby. March 21,2017 we welcomed Marek Sullivan Price. Our wedding was the perfect final piece to completing our family and starting our lives as the Price's.
What advise would you give future brides and grooms? Advice we would give to future brides and grooms is to not sweat the small stuff. Also and I mean this honestly invest in a good photographer that you feel comfortable with because you only get ONE day. Someone who can capture all your moments especially the ones you're missing because you cant be everywhere at once will let you look back for a lifetime and remember all the hard work you put into planning that very special day.
Where there any surprises? We honestly had no surprises on our wedding day. Everything was on time and went exactly as planned, the weather even cooperated.  We did however get a nice surprise the day before the wedding when Mitch's rental suit arrived and the pants were about 2 inches too short. Thank god for my grandmother who saved the day and let the hem out and resewed it so Mitch looked stunning for our big day.
What is one moment that will stick with you forever? We each have different moments that have stuck with us. For Mitch it was turning around, having the blindfold removed and seeing me for the first time. For me it was driving up and seeing all the guests in my grandfathers truck with my dad. It was a very special for me and my dad.
What is your wedding inspiration? Our wedding inspiration was simple and relaxed. We wanted everyone to feel like they could just be themselves, have fun and enjoy the day with us. We also wanted a very rustic feel, which is why we went with the Willow lane barn and the old truck.
What were some of your favourite wedding details? Some of our favourite wedding details include the jam/jelly made by my grandmother and the incorporation of the RCMP red serge uniform. It was an even more special touch that we were able to include all 3 of our children in the ceremony.
Whats some advise you would give couples planning their wedding now? Advice for people planning their wedding now would be to enjoy your day start to finish because it goes by very quickly. Do your best to be present and really take it all in because when its all said and done this is your day!
Vendors:
Dress: Casablanca – Bridal House Edmonton
Suit: Red Serge  & Tuxedo House Edmonton 
Bridesmaid Dress: Levoff –Bridal House Edmonton
Venue: Willow Lane Barn
Florist: Ria- Willow Lane Barn
Rings: Michael Hill
Stationary: Lisa Elford Desine Custom Creations
Caterer: Rajapaksa Catering
Bartender: Straight Up Sassy Bartending
Cake Pops: Cocoa Tree Bakeshop
DJ & Photo Booth: Sound Unlimited Calgary
Officiant: Marianne Bennett
Photographer: Paisley Photography
Melissa had the most amazing bullet earnings that matched Mitch's cufflinks.
Her Casablanca wedding dress was stunning and seriously MADE for her!

All the boys had the best red RCMP socks.
How dapper are these boys!?!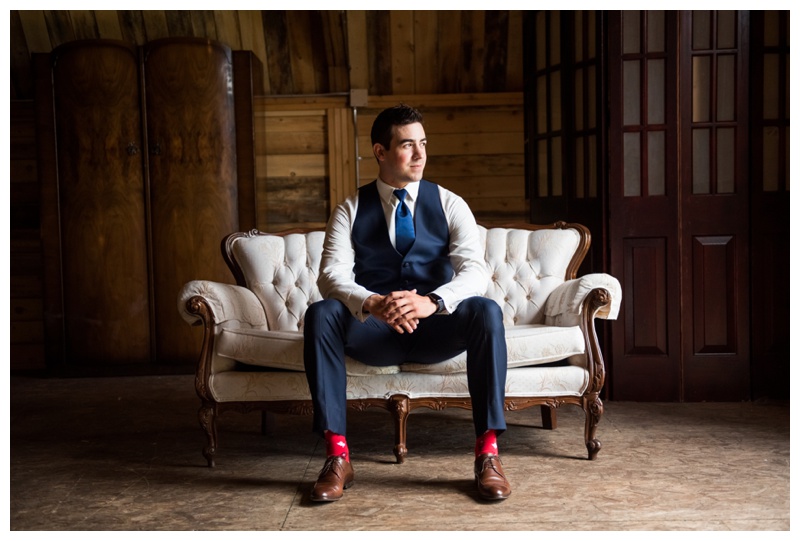 For the first look Mitch was blindfolded as Melissa could sneak up and untie him. 
That moment when their first saw each other!
Ria did a stunning job on the flowers! I loved the yellow pops against the blue bridesmaid dresses.
The grounds at Willow Lane are so stunning for photos.
How amazing is Melissa Grandfather's truck? I secretly want an old truck like this!
Just before the ceremony Mitch changed into his Red Serge
Mitch carried their newest little one down the aisle and even he had his own RCMP uniform on.

Nothing better then a 1950's truck entrance.

Being pronounced husband and wife for the very first time. 
How stunning is this space?!?
Cocoa Tree Bake Shoppe made the cutest RCMP cake pops!

The homemade jam & jelly Melissa's Grandmother made as their wedding favours! So cute and so delicious. 
They had the most amazing weather all day and to top it off they were given the most stunning sunset, which I absolutely had to steal them from their reception and go take a few photos in the incredible light.

You know its a stunning sunset when even the misquotes look like sparkles in the light.

They ended the night snuggling in her grandfathers truck as the sun set. The perfect way to end the perfect day!
If your looking for a Wedding Photographer get in touch with me at info@paisleyphotos.ca
CONNECT WITH ME ON SOCIAL MEDIA
Instagram www.instagram.com/paisleyphotography
Facebook www.facebook.com/PaisleyPhotos
Twitter www.twitter.com/paisley_photo
Pinterest www.pinterest.com/paisleyphotos