The Gathered Farm Wedding | Alex & Lee | Calgary Wedding Photographer
Whats more perfect then a summer farm wedding??? Nothing and that is why I have been so looking forwards to Lee & Alex's The Gathered Farm wedding on July 7th, 2018! Their day was absolutely stunning. They planned a first look prior to their ceremony at the school just across the street from their farm ceremony site. The way Lee looked at Alex when he saw her for the first time was, was sheer love, joy and excitement. Have I mentioned how much I love first looks?
Then it was off to a local canola field to capture the amazing golden fields that only happen for a short period of time in Alberta. These two were so in love that they made my job easy. Constantly smooching, holding hands, and being loving towards each other all day.
Then it was back to the farm for their farm ceremony & reception. Surrounded by their friends family, sheep, and chickens Lee & Alex said I do and pledged their lived to each other! It was perfection! Their Reception was on the same property under a clear tent, with hanging chandeliers, Edison lights, and so many cute country touches. They laughed, drank, and danced the night away under the stars. It was the perfect way to end their amazing day! Congrats Lee & Alex it was an honor to capture your love story!
1.What is your engagement story?
Lee hid the promise ring he had given to me the year before, and that I wanted to keep as my engagement ring, and convinced me that I must have lost it, since that would be a very Alex thing to do. On Easter weekend 2017, just after our four year anniversary, Lee convinced me to go out to Banff to hike Sulphur Mountain, and then walk up and down Banff Ave to eat Beavertails and drink tea. It wasn't the nicest spring day. It was blowing snow and rain as we got closer to the mountains and I insisted that I didn't want to hike because the weather was so bad. Lee insisted we had to get to the top of the mountain, since he had a bit more up his sleeve. He bought gondola tickets and up we went. Once at the top, nerves set in and he couldn't decide where to get down on one knee. I was already climbing the stairs to get to the weather station at the very top of the mountain, so Lee figured that would be a good spot. He insisted on taking a lot of pictures, which was extremely unusual and I totally knew a proposal was coming. When we got to the weather station, Lee got really nervous and asked a random teenager to take pictures of the whole thing. He got down on one knee, and totally forgot the little speech he had practiced in his head. All he could remember was, "You put up with all my shit. Will you marry me? Please say yes, please say yes, please say yes!" Of course I said yes!
2. What advice would you give to future brides & grooms for their wedding day?
Enjoy every single second and don't stress about anything! It goes by so quickly, so just be present!
3. What was your biggest surprise on your wedding day?
Just how everyone came together and everything fell so perfectly into place!
4. What one moment will last with you both forever?
The first look. Lee's reaction was beyond adorable and he had tears in his eyes. I remember thinking, wow I can't believe I get to marry this stud today.
5. What was your wedding inspiration?

We both just wanted to throw a party for all of our closest friends and family, with kind of a backyard BBQ feel where everyone could just show up and have a good time. When we found Gathered and found out one of the menu options was a burger bar, we knew it was the right fit.
6. Describe some of your favorite wedding details and how you came up with them.
One of my favourites was how the ceremony arbor was decorated with white flowers. It just looked beautiful. Thank goodness the couple who got married the day before us were on the ball…because without them we would've had a pretty blank slate!
7. Any advice for those planning their wedding now?
Stick to your guns! There will always be people who complain and you can't make everyone happy. Do what you and your fiancé want to do because it's your wedding day!
Venue: The Gathered
Hair: The Styling Company
Wedding Gown: Designed by Ella Rosa/ from Durand Bridal
Groom/Groomsmen: Derks Formals
Florist: Michael's
DJ: OM Entertainment
Caterer: The Gathered Farm
Invitations: Vistaprint
Wedding Cake: Crave Cupcakes
Photographer: Paisley Photography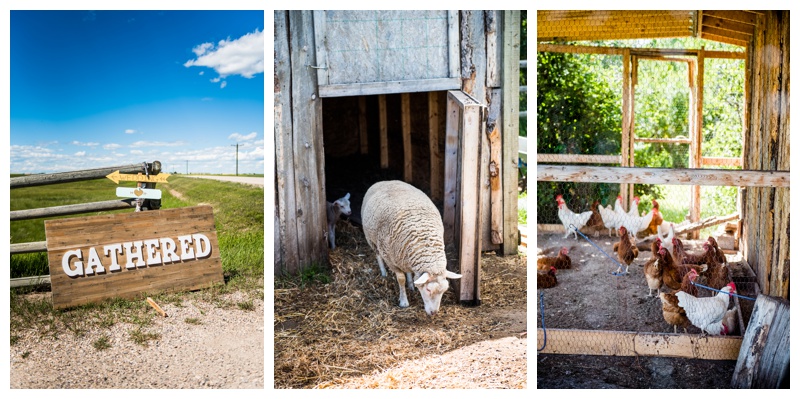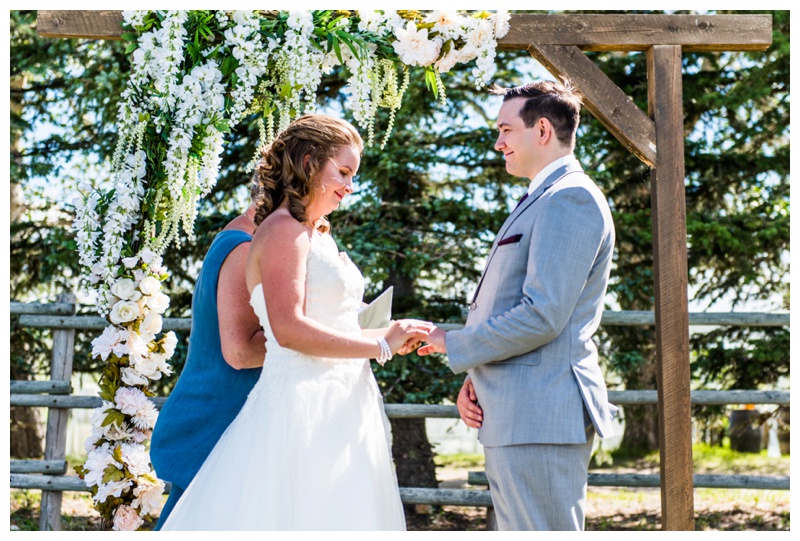 If your looking for Wedding Photography and are in the Calgary, Cochrane, Canmore or Banff area get in touch with me at info@paisleyphotos.ca
CONNECT WITH ME ON SOCIAL MEDIA
Instagram www.instagram.com/paisleyphotography
Facebook www.facebook.com/PaisleyPhotos
Twitter www.twitter.com/paisley_photo
Pinterest www.pinterest.com/paisleyphotos