University of Calgary Wedding | Craig & Kayla | Calgary Wedding Photographer
On one of the most beautiful May Long Weekends I have every experienced Craig & Kayla got married! Planning a wedding in May in Calgary you might have snow, rain, sun or all of the above but for their big day there was nothing but blue skies and sun! Craig & Kayla  planned their University of Calgary wedding day over the last few years. These two have been together for ten years and actually met while in high school. They were set up by one of their friends, and that good friend played a big roll in them getting engaged in Disney World and also again on their wedding day when she married them!
I loved all the small accents Kayla and Craig customized to make their day their own. From the bridesmaids, bride and their son who was also the ring bearer all wearing converse shoes, blue Tardis garter Kayla wore and the silhouetted cake topper that showed the three of them as a family, it was all perfectly them!
Congrats Craig & Kayla, your day was absolutely stunning and it was such an honour to be the ones to capture your love story! We wish you a lifetime of happiness!
Invitations: Vistaprint
Florist: Black Earth Floral
Wedding dress: The Bridal Centre
Bridesmaid dresses: Davids Bridal
Hair and Makeup: Bridal Beauty Bar
Cake: Cakes with Attitude
Caterer: The University of Calgary
Venue: The University of Calgary, The Alberta Room
Wedding rings: Bride-Peoples, Groom-Ben Moss
Photographer: Paisley Photography
Shoes: Converse
Getting Ready Location: Hotel Alma
I loved Kayla's wedding shoes! She had a blue set of heels for the ceremony and then for the rest of the day she wore her matching converse sneakers!!
Kayla's dress was absolutely stunning and one of her friends actually made the beautiful bird cage veil that she wore!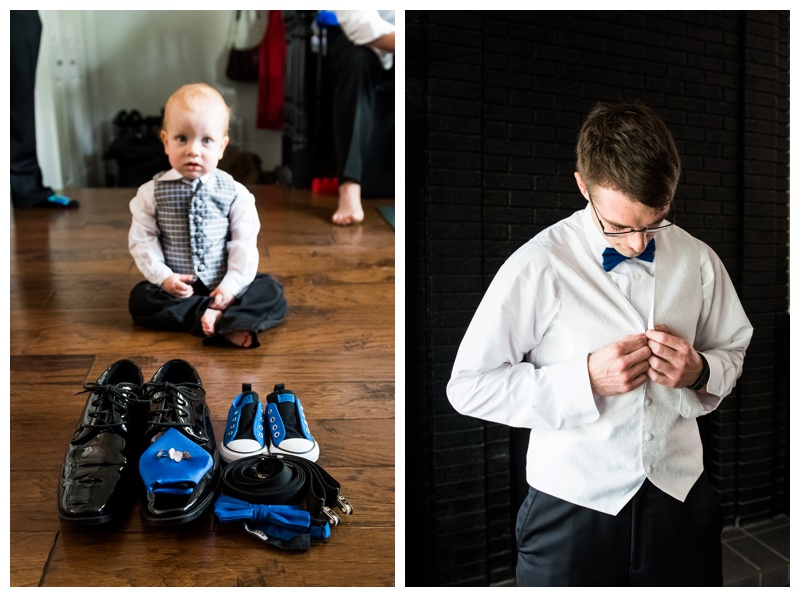 Even Callum the couples son had blue converse sneakers!
These two decided to do a first look even though they planned a traditional timeline and I kinda loved it. It was small, intimate and just the three of them.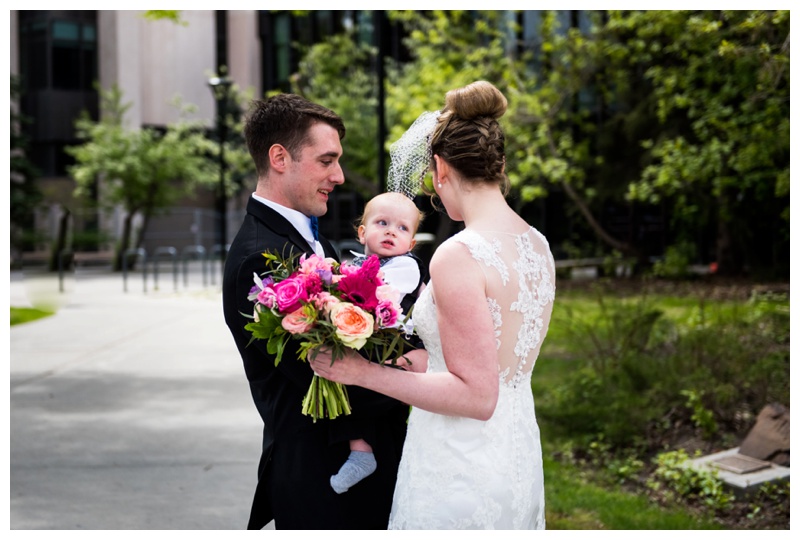 The cutest little ring bearer.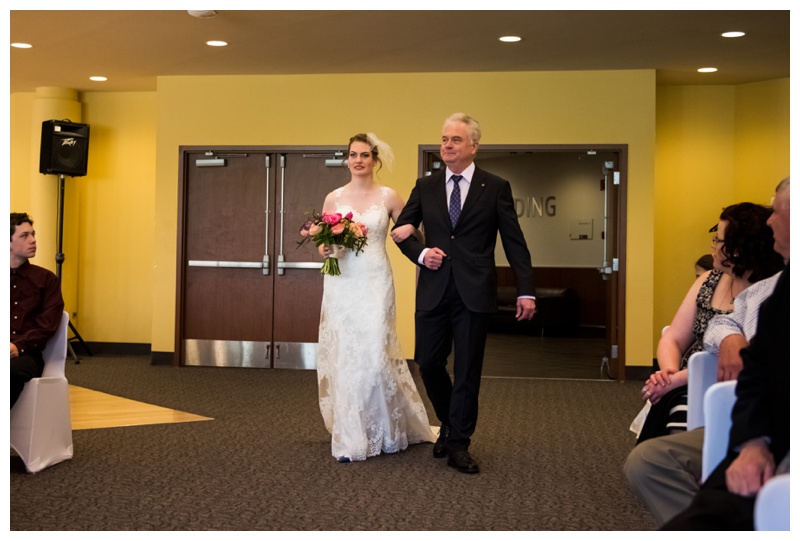 The Alberta Room at the UofC was the perfect ceremony spot.
Then it was off to Nose Hill Park for wedding photos, and believe me there was no shortage of fun and laughter. 
Black Earth Florals did an amazing job on all the ladies wedding bouquets! 
The back of Kayla's wedding dress was stunning! I loved all the lace and button detail
They really had the perfect weather, and we could not have asked for a better sky!
When Craig and Kayla got engaged they were down in Disney World and Craig they had a character artist draw them, and that drawing played a big part in their wedding decor!
We snuck them out just at sunset for some fun dusk shots and it was the perfect end to an already perfect day!!
If your looking for a Wedding Photography get in touch with me at info@paisleyphotos.ca
CONNECT WITH ME ON SOCIAL MEDIA
Instagram www.instagram.com/paisleyphotography
Facebook www.facebook.com/PaisleyPhotos
Twitter www.twitter.com/paisley_photo
Pinterest www.pinterest.com/paisleyphotos