Why Hiring a Professional Wedding Photographer is Important – Calgary Wedding Photographer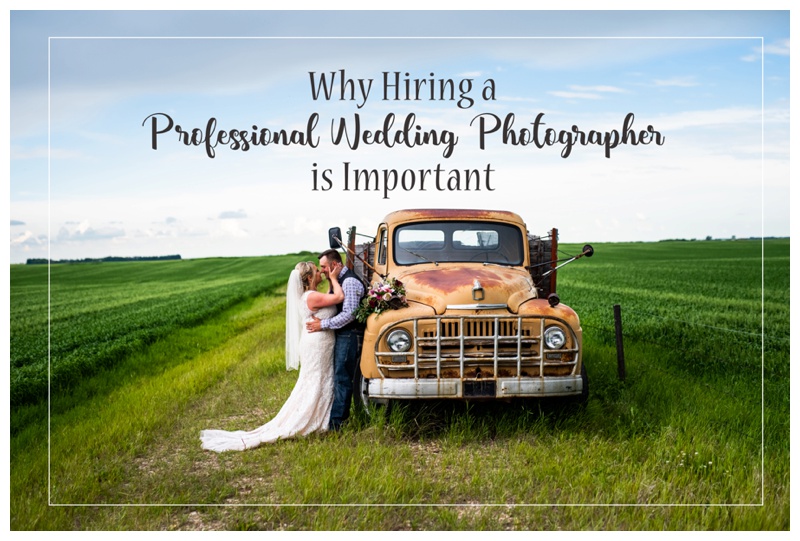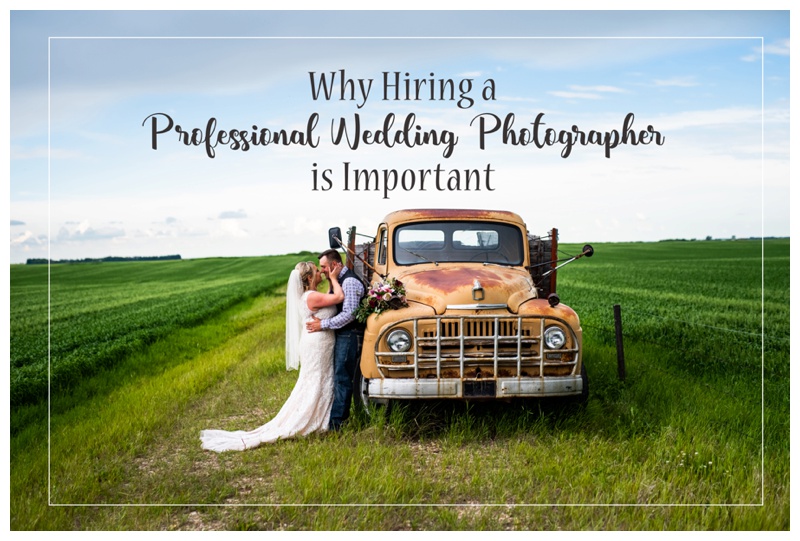 In this day and age everyone has a camera of some sort with them, either on their phone or built into some other sort of technology. This makes it easy for people to think photography is simple and you don't need to have fancy equipment to take photos or have spend hours honing your style. Well in this blog post I will explain why wedding photography is more then that and why hiring a professional wedding photographer is important.
When most people start looking for a wedding photographer for their big day they are shocked by the hefty price tag. I mean don't they just one day? Think again. Our work starts LONG before your actual wedding day. A good photographer will want to meet with you months before your wedding day to hear more about your plans, answer questions and in some cases act as your wedding planner. On the day of your wedding we will typically be with you for 10-12 hours making sure they are always on and never taking a break. After your wedding day they will back up your photos and spend hours upon hours editing and re touching you images to make them perfect, and a timeless memory for you to love for a lifetime. This is very time consuming and can take weeks.
Its not just the time that the photographer puts into your day, but it is also the gear they have. Professional wedding photographers will have good high end gear but also back up gear in case something breaks. This means they have invested tens of thousands  of dollars to make sure they are covered in every type of situation. This doesn't just mean we just have an extra camera body, but also lenses, flashes, stands, batteries, and memory cards. All of this cost money and is important to have.
A professional photographer will also have professional liability insurance. This insures that their gear is covered, if someone trips and falls over a light stand at a wedding and gets injured they are covered, or if equipment does malfunction and data is lost they are covered. It's there to protect you as the client but also the photographer. Having this is a win win for everyone involved. By hiring a photographer without this it can put you in a sticky situation if anything ever happened.
For most weddings, they don't take place just down the street from your home or easily accessible on public transit. For this reason we need a reliable vehicle that will get us to your wedding day on time. This also means we are putting on 1000's of kms on our vehicles which costs us money as well it means our cars need regular maintenance. Being a photographer means we are constantly on the road and isn't as easy as just hopping on the bus to head to your office downtown.
Photography is more then just taking a pretty picture or having a good camera. Good photographers have spent thousands of hours training to be a photographer and shooting 100's of weddings. Taking classes and consistently educating ourselves with different techniques takes time and money so we can stay at the top of our game. What is actually involved in that perfectly backlit sunset photos is more then just clicking the shutter button. 
A Professional will also be able to anticipate those special moments in a wedding day. These are the small things like the way your dad is looking at you with a tear in his eye, or your flower girl spinning like a top on the dance floor. These are the moments during your wedding that tell the emotional story of your day. Anyone can snap a few good posed photos but it takes real experience to anticipate these moments.
This is your wedding day and hopefully you will only be having one special day. This means you only have one chance to capture these memories so make sure you trust have confidence in your photographer. After all the cake is eaten and your wedding flowers have wilted you will have those beautiful wedding photos telling the story of your day and holding lots of amazing memories. These are the part of your wedding you will have this forever.
If your looking for Wedding Photography and are in the Calgary, Cochrane, Canmore or Banff area get in touch with me at info@paisleyphotos.ca
CONNECT WITH ME ON SOCIAL MEDIA
Instagram www.instagram.com/paisleyphotography
Facebook www.facebook.com/PaisleyPhotos
Twitter www.twitter.com/paisley_photo
Pinterest www.pinterest.com/paisleyphotos