Willow Lane Barn Wedding | Johnny & Bobbi | Olds Wedding Photography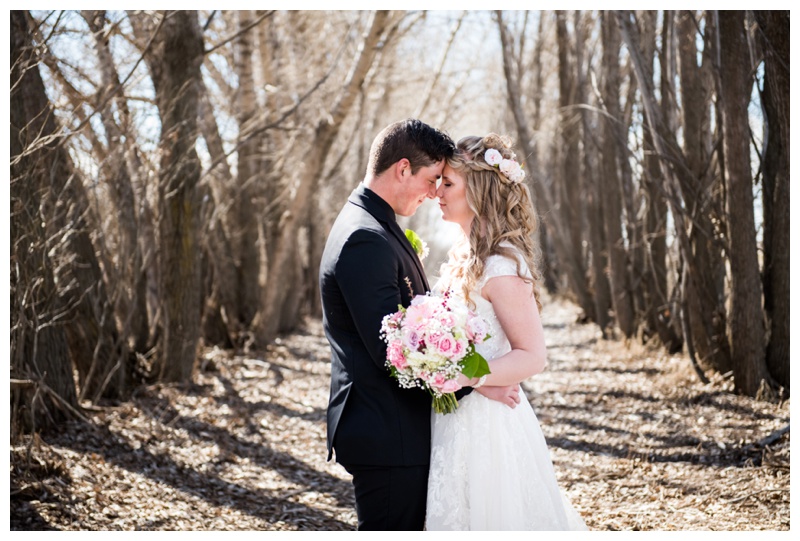 On April 29th, 2017 Johnny & Bobbi tied the knot at the stunning Willow Lane Barn in Olds, Alberta. Their day was absolutely stunning! The weatherman said that there could be a chance of rain but thankfully the rain held off all day and we have nothing but blue skies. They did move their ceremony inside the barn just to be safe, but Willow Lane Barn is so stunning that it was the perfect backdrop. Then we snuck off into the tree lined lane the barn was named after for some cute photos of just the two of them. This is such a stunning spot and these two are crazy adorable together. They had eyes only for each other and you could feel the love they had. Then we snuck back into the barn and went up to the loft of the barn for some moodier photos. There is something that I absolutely love about shooting in this loft. The light is amazing and the warm wood walls give such an interesting backdrop.
Johnny & Bobbi's barn reception was so fun of love. Each table was adorned with white mason jars filled with wildflowers. Everything was perfectly them and perfectly country. So many of their loved ones got up and spoke such incredible speeches about the two of them. During some of the speeches there was also not a dry eye in the house (including min own). It was such an incredible day and one that I know these two love birds will never forget. Thank you Johnny & Bobbi for choosing us to be the ones to capture your love story. Your day was perfectly perfect!
Now a little from the couple:
1. What is your engagement story?
Our engagement story..Our engagement story is quite unique in the sense that Johnny had to propose..twice. He continuously told me he was going to propose in my favourite place whenever I asked him previously. My favourite place in the world is Vancouver. So he planned this road-trip to Vancouver with the intentions of proposing to me while we were down there. When he told me where we were going I knew it was going to happen. About 3 days before we left he called the jewelry store where my ring was on hold and I guess they went through management changes and the ring was sold. They didn't tell him at all or give him any warning that they were selling the ring that was on hold for him. So he sat me down before we left and told me what happened, he said when we went to Vancouver he would just have to do something else. He wanted to keep his intentions the same for the trip, ring or no ring, the proposal was going to happen. I just didn't know when. Eventually he did it. In front of the ocean and on the beach of our favourite spot in Vancouver. There was no ring, but I didn't care. It was the feeling I got when he did it and how he did it in our favourite spot, in my favourite place. Back home, we didn't tell anyone we were engaged because of course they would ask where the ring was. It wasn't until Johnny got everything figured out with the jewelry store that he told his family he was going to propose. So initially we were engaged for about 2 weeks before we could actually tell anyone. One night after his firefighter training he called me while I was at home and told me to come downstairs and go for a drive, the entire time we were driving his phone kept going off with texts from our family and friends asking if he had popped the question yet. He took me to his favourite spot in Edmonton, an old fishing spot that overlooks the North Saskatchewan River. His dad used to take only him there when he was younger and that was were they would spend a lot of time together. I was the only girl he had ever taken to his favourite spot, so it meant a lot for him to do the "proper proposal" there. In front of his truck lights, overlooking the river, looking really good in his suit, he proposed. So technically saying, he proposed in both of our favourite spots.
2. What advice would you give other brides and grooms for their big day?
Don't sweat the small stuff. In the end the only thing that matters is you, and the person waiting at the end of the alter for you. It doesn't matter if things go wrong, people won't remember that in a couple of years. What matters is the love that is being shared between you and your spouse. I could tell you a million things I was stressing about on the big day, but when I saw Johnny standing at the end of the alter, all my stress melted away.
3. What is the biggest surprise that happened on your day?
The speeches. I don't know what I was expecting but I definitely wasn't expecting my brother to be the biggest cryer of them all, or Johnny's dad to make a speech and call me an angel. I knew they were going to be emotional but I wasn't expecting that level if that makes sense.
4. What is one moment that will last with you forever?
I'm going to keep it cheesy and say the first time I saw Johnny at the alter while I was walking down. Everyone in the crowd was a blur and it was only him. I saw the look in his eyes and the tears and it made me so happy.
5. What was your wedding inspiration?
Had to be what we grew up with. Johnny and I are country kids at heart and we really wanted to incorporate that into our wedding. Willow Lane Barn is very charismatic on its own so we wanted to keep the decorations minimal but still have a rustic country theme. We knew renting halls or golf courses wasn't for us, and immediately after we became engaged we decided that we wanted to do a barn wedding. We didn't care where it was but it was going to happen.
6. What was your favourite wedding details?
The string of lights in the front of the venue. Originally those lights were for the posts that had the curtains attached to them, but when we were decorating the bridal party decided to change my idea and the string the lights at the front. They didn't tell me that's what they were doing until after. They helped us create that country wedding feeling even more. I think those lights helped pull together all our decorations.
7. What is some advice for those planning their wedding?
Don't sweat the small stuff and remember that this is YOUR day. When I started wedding planning I was bombarded with questions about cake toppers, decorations, linens, and all the little things besides the big stuff like caterers, photographers etc. In the end none of those matter as much as you think they do. When I was planning my wedding there were a couple of times I had to tell people to back off of my planning. Not everyone is going to agree with what you decide to do and that is okay. Remember that this is your day, and no one else matters except you and your spouse.
Ceremony & Reception Venue: Willow Lane Barn
Invitation designer: Vista Print
Florist: Ria Holgerson
Dress Designer: Oleg Cassini (David's Bridal)
Bridesmaid Dress Designer: David's Bridal
Cake Designer: Cocoa Tree Bake Shoppe
Suit Designer: Moore's
Officiant: Karol Jorgensen
DJ: JDDJ's INC.
Master of Ceremony: Eric Laffoley & Andrew Wetzstein
Wedding Ring Designer: Michael Hill
Caterer: Rajapaksa Catering
Hair and Makeup: Andrea Weibel
Photographer: Paisley Photography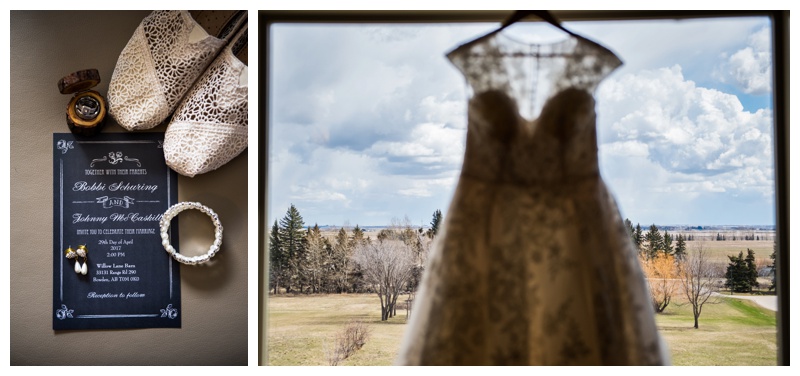 I LOVED Bobbi's wedding dress! The lace and and the cap sleeves were perfect for her.
She was such a stunning bride!
Johnny looking handsome in his wedding attire as well.
Willow Lane Barn is such a stunning wedding venue!!
Bobbi's brother and nephew walked her down the aisle.
I loved the long wine bridesmaid dresses with the back shawls. They matched the boys so well
These boys cleaned up so good. Look how handsome they are.
Willow Lane has so many amazing areas for photos including this cute little tree swing.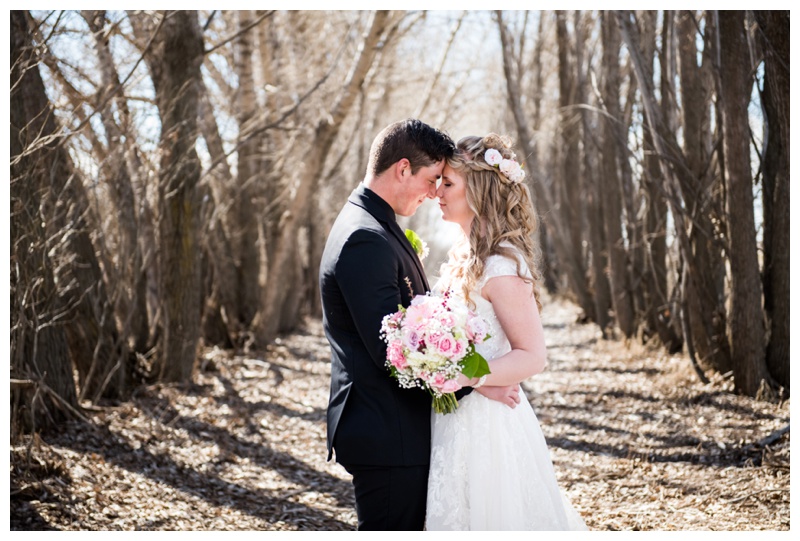 I
I have no words to describe how cute these two are!!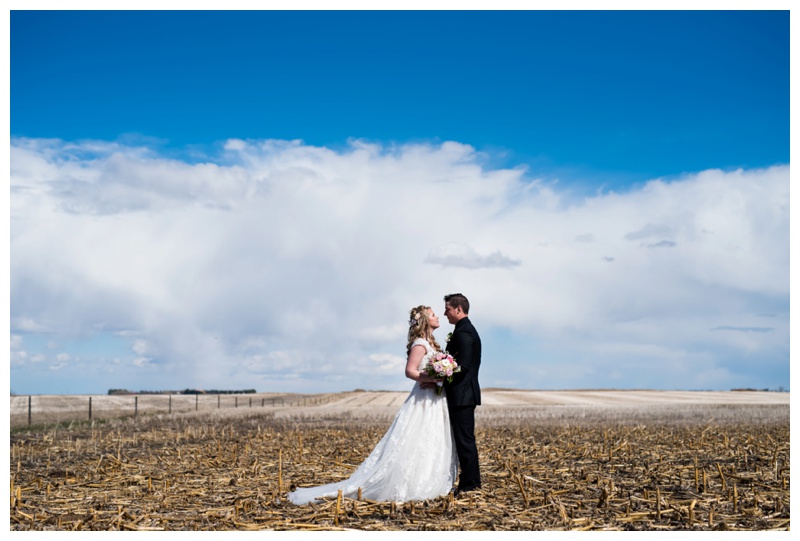 Give me a farm wedding any day!!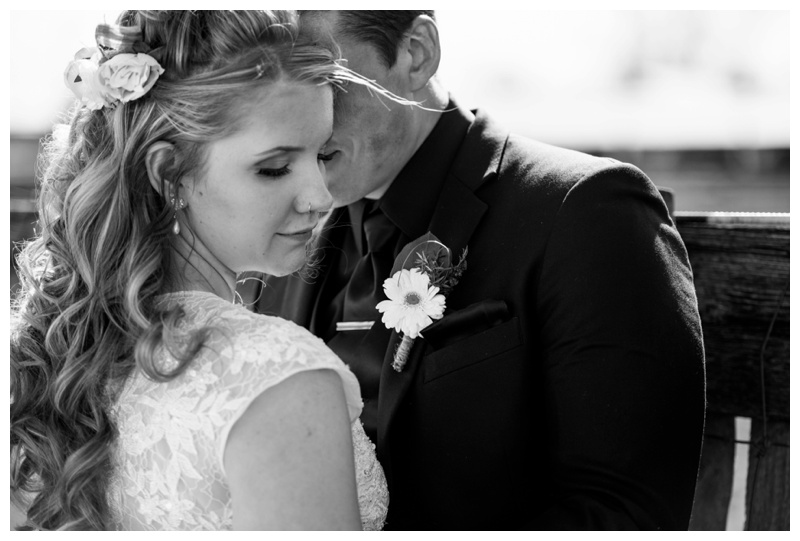 The loft of the barn at Willow Lane is a photographers dream.
Ria from Willow Lane designed Bobbi's stunning wedding bouquet.
Cocoa Tree knocked it out of the park with their three tiered wedding cake.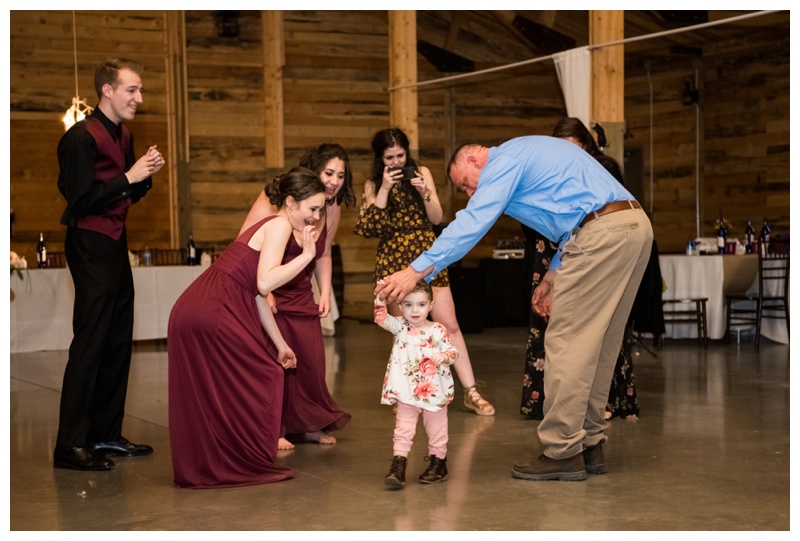 We snuck them out right at the end for a couple quick night photos and I am in love with how this turned out! Barn weddings for the win!!
If your looking for a Wedding Photography and are in the Calgary, Cochrane, Canmore or Banff area get in touch with me at info@paisleyphotos.ca
CONNECT WITH ME ON SOCIAL MEDIA
Instagram www.instagram.com/paisleyphotography
Facebook www.facebook.com/PaisleyPhotos
Twitter www.twitter.com/paisley_photo
Pinterest www.pinterest.com/paisleyphotos