You're Engaged! Now What?!? | Calgary Wedding Photographer
Congrats you're officially engaged! The ring is on your finger, your favorite person asked you to be their forever, but now what? Wedding planning can be hugely daunting. Everyone wants to have their say in your day and ideas on how to start. Because of this I have put together a list of things you should be doing next after saying the big "Yes!"
Pop the Bubbly!
I mean your engaged after all so it is a time to celebrate! Also take some time to just be you two and settle in to the words finance coming out of your mouth instead of boyfriend or girlfriend. 😉
Call Your Family
There is no worse way for your parents or sisters to find out then on social media. Hold off changing your relationship status to engaged until after you have made those phone calls. Your family and friends will appreciate being in the loop and not just one of the masses on social media.
Get Your Ring Sized & Insured 
I know I know! The ring is finally on your finger so you don't want to take it off. Believe me it is WAY better to have your ring sized to your proper size instead of always working if it will fall off your finger. Usually it don't take super long to have it perfectly fit to you, so save the head ache and get it sized right away. Also just incase you do loose it in the future make sure you have it appraised and insured. There is nothing worse then loosing it and not having a policy to get it back.
Find a Venue & Set a Date!
Typically venues are the first to book up so it is important when looking around to keep an open mind. If your heart is set on a certain venue you may have to be flexible on date or if you have you heart set on a date you may have to be flexible on the venue.
Set A Budget.
No one wants to get cray in debt for a wedding so set a realist budget for your day and work within it. It is also important to prioritize some elements of your day. If photography is important to you then make sure you set aside more money out of the budget for that, and cut somewhere that might be less important like favours.
Book Your Photographer
A lot of photographers including myself book a year or more in advance especially for long weekends or summer months. If you have your eye on a certain photographer in mind it is best to start nailing down and booking them asap. Nothing makes me more sad then telling couples that I am already booked for their special day.
Daydream
Spend some time really thinking about what you want your day to look and feel like, after all it is your day. This is one day you get to make exactly how you want it. Looking through Pinterest and wedding blogs and saving your favourite ideas will help you put together a seamless look for your day.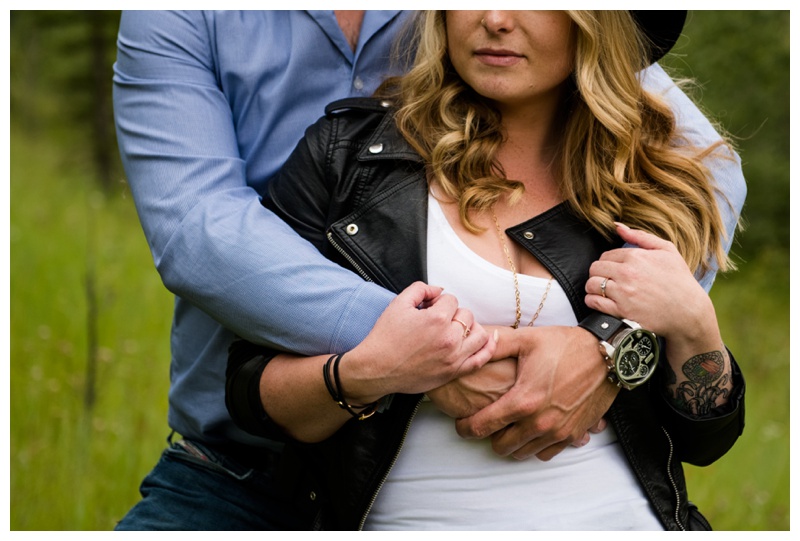 Book A Wedding Planner
Wedding planners or day of coordinators can reduce your stress immensely. By booking a wedding planner a lot of the pressure comes off you and onto them so you can just enjoy your day and not worry if the harpist is going to show up.
Start Your Guest List
First know exactly how many people are allowed in your venues. Then sit done and start coming up with a guest list. A good rule of thumb is if you haven't talked to them in a year or if the have met you finance they might now make the cut. Also keep in mind your budget as food and rental costs will go up with each invitee.
Enjoy!
Don't forget to enjoy being engaged.  It is a special time in your relationship and has its own unique feeling and moments to it.  And you can't take too many selfies showing off your ring.
Want to see more tips for planning your wedding?  Click here!
If your looking for an Wedding Photographer and are in the Calgary, Cochrane, Canmore or Banff area get in touch with me at info@paisleyphotos.ca
CONNECT WITH ME ON SOCIAL MEDIA
Instagram www.instagram.com/paisleyphotography
Facebook www.facebook.com/PaisleyPhotos
Twitter www.twitter.com/paisley_photo
Pinterest www.pinterest.com/paisleyphotos