Bow Valley Campground Mountain Wedding | Brandon & Hannah | Canmore Wedding Photographer
I have been waiting almost two years to capture high school sweet hearts, Brandon & Hannah's wedding day! They were the very first couple to book me for 2018 and I was so excited to be the one asked to capture their story. 3 years ago I got to know Brittany's family when I documented her brother and sister in laws wedding, so it was so fun to see the whole family again.
Hannah & Brandon chose Bow Valley Campground just outside of Canmore for their stunning fall wedding day as it holds a lot of sentimental memories. It was the first campground they took Hannah to just a couple months after she was born. It was also the first campground Hannah took brandon to when they started dating. The amphitheatre in the middle of the park was the perfect outdoor location for their emotional wedding ceremony. Aside from a few magical snow flakes that flew during the weather was the perfect fall day.
Then it was off to the cozy Cornerstone Theatre for the reception. It was decorated in all things fall right down to the leaves sprinkle down the side of a two tiered pie! YUM! From start to finish Brandon  & Hannah's wedding day was perfect, and it was an absolute honour to capture their love story! Congrats Brandon & Hannah!
Now here is a little from the couple:
1. What is your engagement story? I had the ring for three months before asking Hannah. We were camping at Moyie Lake in BC. It was the middle of our trip and we were sitting around a morning campfire. I had Hannah's sister-in-law ready to take photos of the whole thing. I told a story about a particular Japanese myth that goes something like this;
"Every person is born with a red string tied around their pinky finger. This red string connects them to the love of their life, their soulmate. No matter the distance, no matter what gets in the way, the red sting will never break. It can tangle and weave but it will. Never. Break."
And I went down on one knee and told everyone listening, that my red string had been leading me to this moment. I pulled out the ring and said those six special words.
"Hannah Rumgay, will you marry me?"Through the tears, she said yes.
2. What advice would you give to future brides & grooms for their wedding day? Enjoy the day. You have been planning it for forever and it will go to fast. Everything is set and there's nothing to do but in the moments with your husband/wife and all your family.
3. What was your biggest surprise on your wedding day? The biggest surprises for me was the love filled slideshow my beautiful sister in law put together for us. That and my husbands crazy dance moves that no one had ever seen before.
4. What one moment will last with you both forever? The first time seeing each other. It is a beautiful and relieving moment, to see them and know it's finally time for forever. And of course hiking up a sketchy hill and running around for our photos was unforgettable!
5. What was your wedding inspiration? Our wedding inspiration was easy "cozy camping around a fire with the fall chill in the air. Our favourite time to camp" at least for the ceremony. We tried to bring that into our reception but it took a little modern rustic twist as well. Although my mum would just call it Glamping (glamor camping) instead of cozy camping lol
6. Describe some of your favorite wedding details and how you came up with them. One of my favourite details was my dads socks. He loves his funky socks and got him a pair stating "of all the walks we'll take this is my favourite" he loved them so much he got teary eyed. Our boys boutonnières were hand made by my mum. Pinterest win! My dad and thatcher (ring bearer) had matching bow ties that were costume designed plaid to incorporate both our wedding wedding colours. I was wearing my grandmas antique pearls with my dress which I had stated I wanted to wear after the first time I saw them when I was a little girl. My shoes (duh) are one of my favourite things in the wedding as they are costume order wedge converse all stars with my wedding date and decked out in crystals! (Also super comfy, and apparently good for hiking lol). All our boys were wearing super hero shirts with matching cuff links as Brandon  is a huge Marvel fan, these were also used to ask the boys to be in the wedding party. Our wedding pie was specifically chosen because first Brandon does not like cake or icing  and second we both love and gravitate towards a more simpler path. Plus we both love pie! And last my stunning sister in law again used that beautifully creative brain of hers and designs our movie posters  each one captures a different portion of our relation so perfectly!
7. Any advice for those planning their wedding now? Elope! No lol I'm just kidding. But planning a big wedding is stressful and crazy! And you can never please anyone! So try and please your selves. If there is something you want to do, do it! Don't regret it later!
Vendors
Ceremony Venue: Bow Valley Campground
Reception Venue: Cornerstone Weddings
Hair & Makeup: Rachel Down Makeup
Groom Suit: Rw & Co.
Florist: Elements Floral Design
Invitations: Shutterfly
Limo: Highland VIP
Cake: Pie Junkie
Photographer: Paisley Photography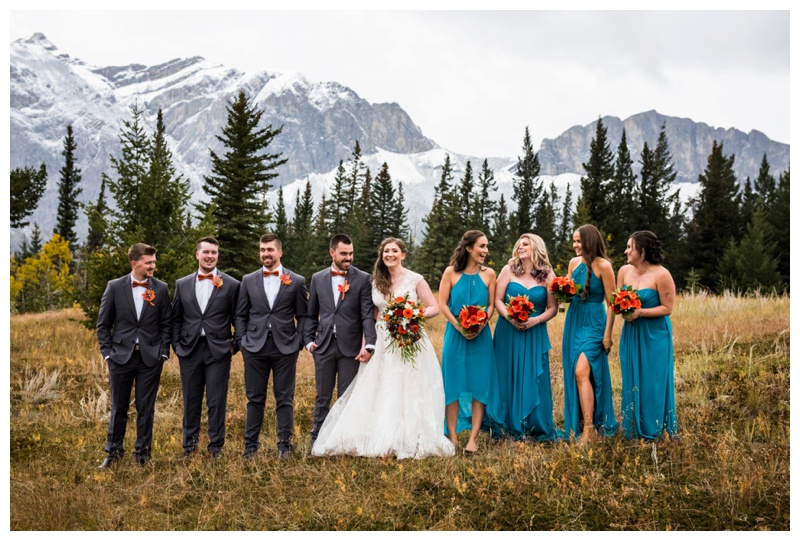 If your looking for a Wedding Photography and are in the Calgary, Cochrane, Canmore or Banff area get in touch with me at info@paisleyphotos.ca
CONNECT WITH ME ON SOCIAL MEDIA
Instagram www.instagram.com/paisleyphotography
Facebook www.facebook.com/PaisleyPhotos
Twitter www.twitter.com/paisley_photo
Pinterest www.pinterest.com/paisleyphotos