Calgary First Birthday Cake Smash Photography ~ Charlotte is ONE!
When Rose first contacted me about her daughter Charlotte's Calgary first birthday cake smash photography session she mentioned to me she wanted to incorporate some of their traditional Korean heritage into the session. I was absolutely up for this! She mentioned that she had a traditional dress for Charlotte that had pinks, and blues and wanted to pull those colors into the set up. Rose also handcrafted four beautiful pillars each with her name or with the animal for the year Charlotte was born and wanted to use those as well. They turned out so amazing and loved that it was another more personalized element to her session.
We started their session outside for a quick family session in Fishcreek Park and then we moved inside into my studio space for the messy cake smash party! Charlotte wasn't too sure about the cake her mom had made for her though. Her parents said she had never had sugar before so this was a whole new experience for her! She did end up smashing part of the cake but in the end she decided it was just too messy. Happy first birthday sweet Charlotte! It was so fun capturing all these firsts for you!
How beautiful is that dress Charlotte is wearing? I am in love with the bright colors and textures. Also each one of those pillars was hand made by Rose, Charlotte's mother. She told me that each pillar took 5 hours to make! But how amazing are they?!?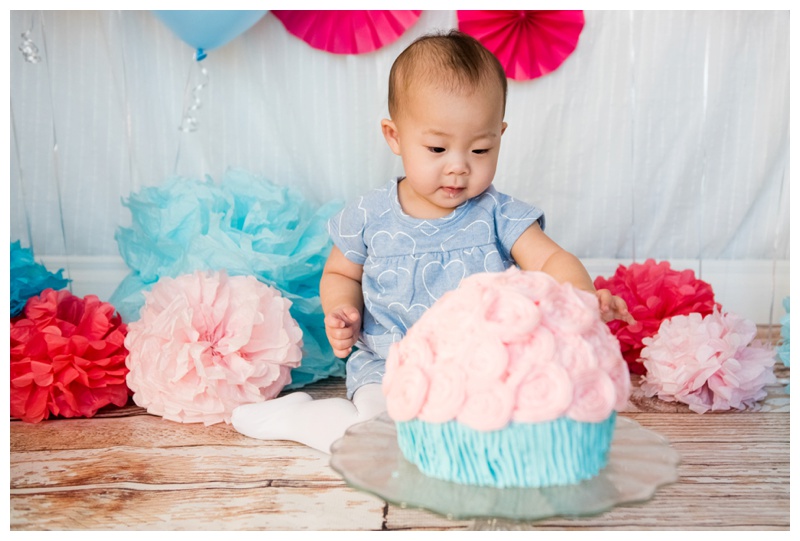 Doesn't this cake look so tasty?!? Charlotte's very talented mom also made her stunning cake! YUM!
[socialring]